Myth Busting – Common Yacht Charter Misconceptions
If you've never experienced a crewed yacht charter before, you likely have some preconceived ideas of what it may consist of. The yachting world can be a little tricky to navigate for a newbie. So we're here to clear up any confusion, and to bust a few myths along the way.
Read on for some potentially surprising insights into the wonder of crewed yacht charters!
Myth 1: Yacht Charters – Only for The Rich and Famous
The first big misconception about all-inclusive yacht charters is that they are only for the fat cats of the nautical world. It's an easy mistake to make. Promotional material by yacht companies usually features elegant individuals in designer clothing, with a glass of champagne in hand. And we've all seen the music videos featuring celebrities, lazily sunning themselves aboard their seemingly private vessels.
Whilst there are luxury charters which could set you back 6 figures per week, these are the exceptions, rather than the rule.
There are many ways to make a crewed charter more cost effective. You might consider a vacation outside of peak season, or somewhere a little off the beaten track. This way, you can enjoy an experience that's potentially more peaceful, as well as pocket-friendly.
The old adage 'the more the merrier' never rings more true than on a charter vacation. With more guests aboard, the overall charter cost can be shared amongst the group. That's not to say that it would be crowded either, as most charters have a maximum capacity of 12 guests.
This is where your yacht.vacations consultant really has the chance to shine. We will be able to explore the options available within your budget, and negotiate with our partners on your behalf.
Myth 2: Bareboat Charters are more Cost Effective
Whilst the DIY approach to organising a charter might appear to be more cost effective on the surface, this isn't necessarily the case. The fixed price of an all-inclusive is exactly that: all inclusive.
Whilst bareboat charter rentals can be sourced for a pretty low price, when you start adding on the necessary extras, it soon adds up. You'll need to factor in the damage waiver and any local cruising taxes or fees. Arranging your own provisioning and water toys can take time out of your trip, and is an additional expense to consider. If you decide to take a skipper or chef on a bareboat, you will need to pay their fees and also include provisioning for them, this is where all inclusive crewed charters can save you money as that's already included.
An all-inclusive charter not only takes all of the stress and organisation out of your charter, but also eradicates the risk of any surprise costs.
Myth 3: Charter Yachts are a Nightmare to get to
We get it – after a long flight, all you really want to do is step off your plane and into the pool. The idea of tricky transfers on the other end can be very offputting. You might assume that charter yachts are difficult to get to, especially if you're going island hopping in the Caribbean or Mediterranean.
The reality is that this has already been considered for you. The yachting industry has assured that transfer services are regular and efficient. No crew wants their guests to arrive tired and grumpy! Whether it's a water taxi zipping you from the USVI to BVI, or a car waiting for you when you touch down in Athens, leave it to us.
Remember, once you're on board, all you need to do is relax.
Myth 4: Restrictive Menus and Itineraries
This isn't your typical package holiday, with a crowded buffet at set times in a soulless dining hall. The menus you see when considering your charter options are a suggestion – a selection of dishes your chef enjoys preparing.
This is your charter – and a totally custom experience. You can discuss your dietary preferences with your crew before the vacation. They will create a menu based on the likes and dislikes of your group, and will ensure the fridge is full of your favourite drinks.
Similarly, the suggested itinerary is simply to provide you with some inspiration. Your crew will be able to make recommendations based on your ideal schedule. If you want to take it slow, there's no need to cram in every sight on the agenda. If you're keen to experience as much of your destination as possible, your crew will help you find the best way to do this.
Myth 5: Only for Incompetent Sailors
Nope. Although bare-boating may be your ideal vacation (in which case, just say the word), there are many perks to having a captain on board.
Crewed vacations aren't just for inexperienced sailors. Having a crew on board can give novice and experienced sailors and opportunity to brush up on their skills.
If you're the only skipper in your group, having a crew on board means that the navigational work needn't fall solely in your lap. It also gives you the freedom to head ashore as a group, knowing that your yacht is being taken care of.
Myth 6: It's Better to Book Directly
On the contrary – working with us at yacht.vacations can actually save you money. Instead of working only with one charter company, we have relationships with providers across the world. We can search all of their fleets and find the best options according to your requirements.
Another common misconception is that we will charge you commission. Our commission comes from the provider, not from the client. So there will be no extra charge to you. In fact, in many cases we're able to offer a bigger discount, thanks to our strong partnerships across the industry.
Remember, with yacht.vacations, you're guaranteed a personalised and instant service before, during and after your charter.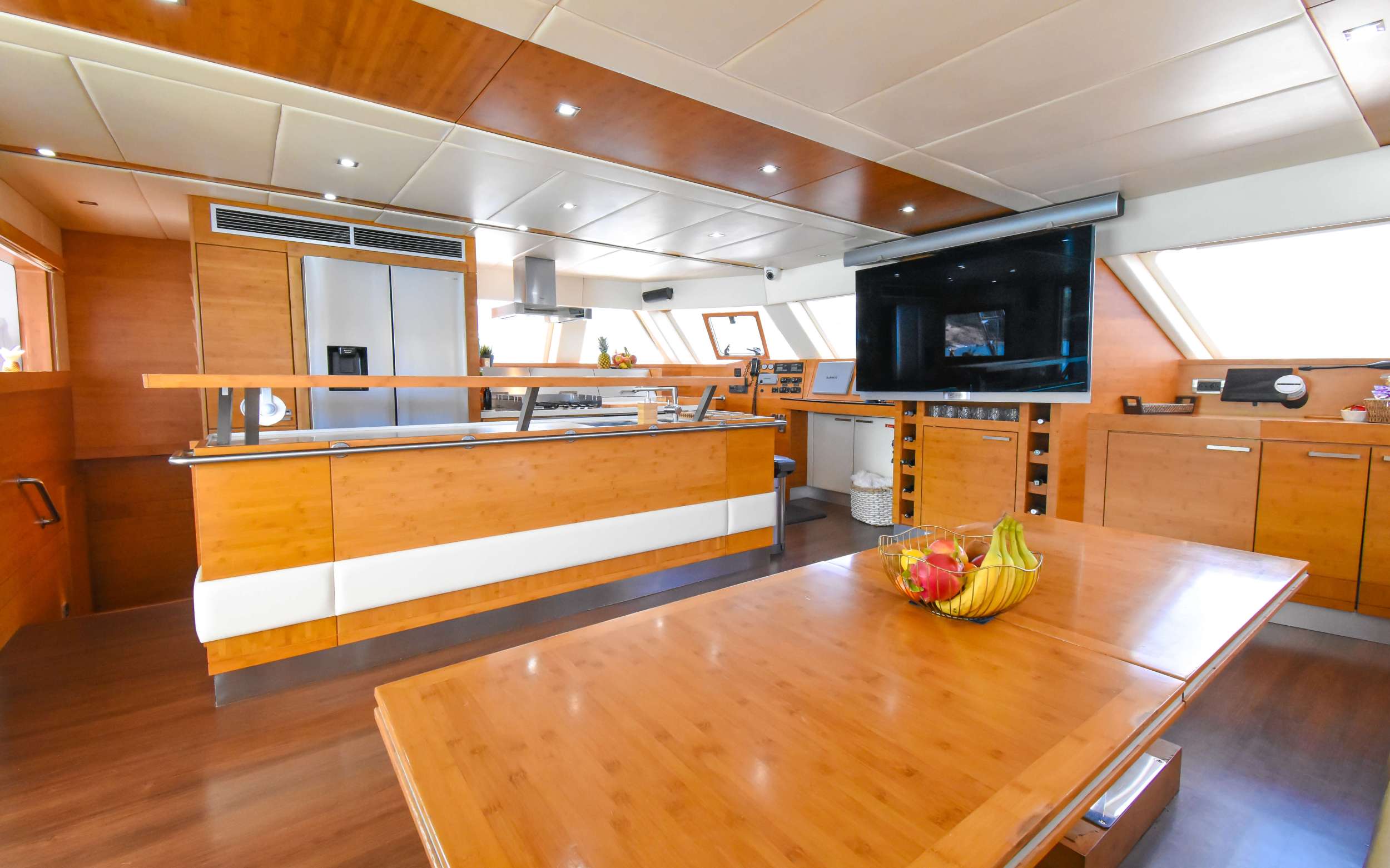 Myth 7: I Get Seasick – Sailing Isn't for Me
We hear you. There's nothing worse than feeling seasick, and if you've experienced this before, the chances are that you're not too keen on the idea of repeating it.
The first thing you need to know is that the most popular sailing destinations are chosen for their perfect conditions. Calm waters and light winds make for very smooth and enjoyable sailing.
If you're chartering a catamaran (by far the most popular option for crewed charters), you'll also have the benefit of the two hulls. This creates a very stable sailing platform, which is far less susceptible to tilting or rolling on waves.
Myth 8: Not Family Friendly
The idea of having children on board a boat may fill you with dread. Let us assure you that charter yachts are designed with the highest of safety measures as standard. Some charter yachts have taken this to the next level, with safety nets and child gates.
Whilst most crews are delighted to welcome families on board, some are known for being especially kid-friendly, with entertainment and games to keep the whole family happy. Read more about our family-friendly charters
Any Further Questions?
Hopefully, if you've got this far, we've successfully cleared up any misconceptions you may have had about crewed yacht charters. However, if you have any other questions or curiosities, we'd be delighted to chat with you! Give your yacht.vacations consultant a call today and we'll soon have you setting sail.