Myth Busting Part #2 – Common Yacht Charter Misconceptions
At yacht.vacations we're always delighted to discuss your queries or concerns regarding a crewed charter vacation. It's in everyone's interests to arm you with the facts so that you're confident with your decision and are totally relaxed when you step on board!
With that in mind, we're back to bust some more charter vacation myths!
Myth 1 – Someone Will Be Bored
One of the biggest challenges facing anyone planning a vacation is finding an option that will please everyone. People, by their very nature, are a diverse bunch – with varying interests and ideas of what constitutes a perfect vacation.
A charter vacation is so full of potential and variety that it's impossible for anyone in your group to be dissatisfied.
First up – one of the hardest audiences to entertain are surely the youngest members of the group. Children aren't usually known for their long attention spans, and the idea of keeping them happy on a boat for a week or so might seem impossible. You'd be forgiven for having doubts, so please allow us to reassure you. Charter yachts are essentially floating playgrounds. Water toys aplenty mean for hours upon hours of fun, splashing around in the warm seas. There's even more excitement to be had on dry land, with beaches, mountains and villages to explore. Read more about child-friendly vacations.
So what about the rest of the group? Well, whatever your interests – they can be readily accommodated. Those in search of a more leisurely experience will enjoy sunny afternoons reading on the deck, before sliding into the water to cool down. The adventurers in your group can try all manner of activities and extreme sports, both on the water and on land. Read more about adventure yacht charters.
Abundant nightlife may draw you ashore for an evening or two. Bars, restaurants and nightclubs are only a tender-journey away, and what better place to see the sunrise, than from the beach?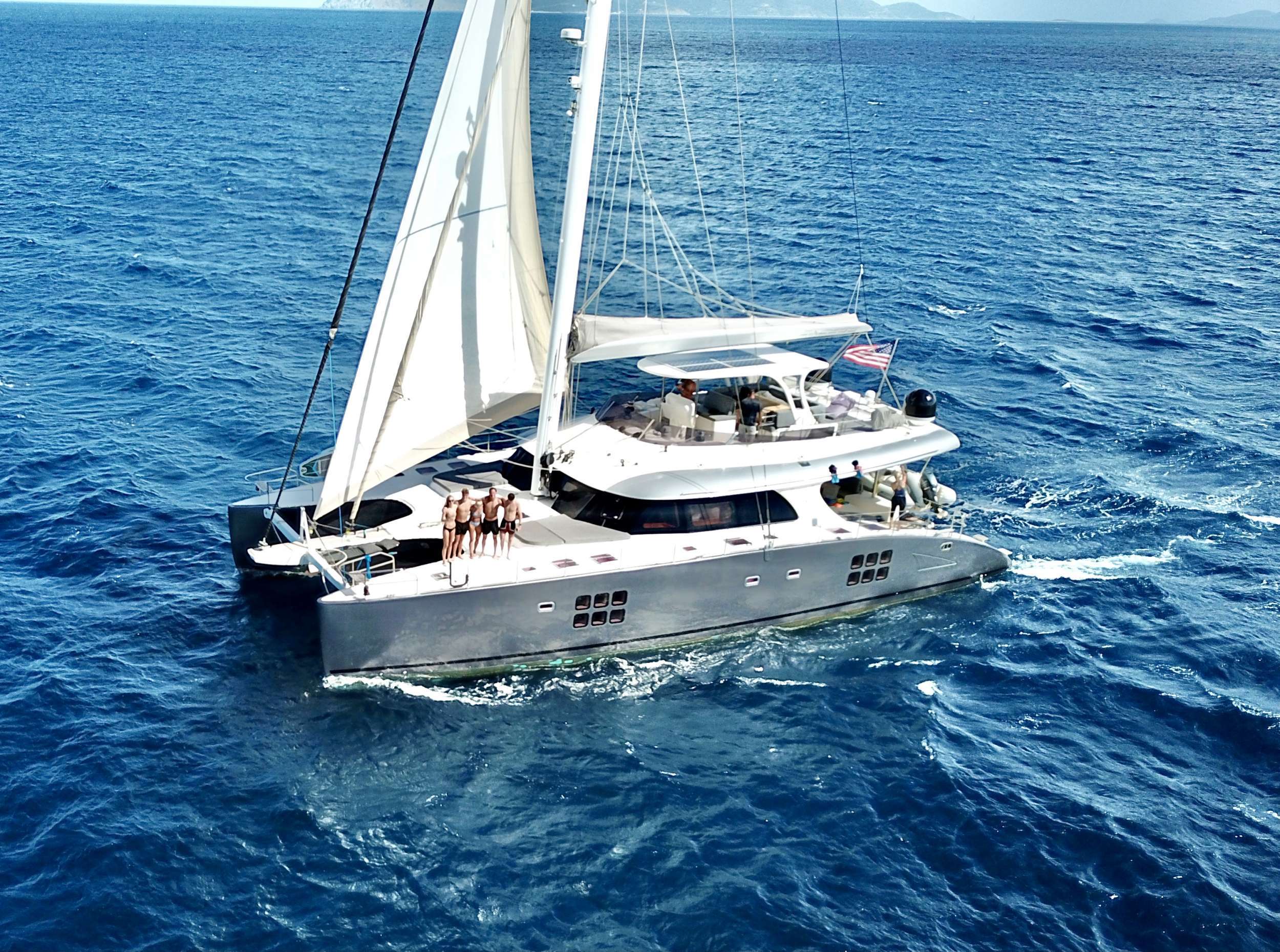 Myth 2 – Charter Yachts are Small and Uncomfortable
Well, this does of course depend on your definition of small, but even the smaller crewed charter yachts out there are undeniably comfortable.
The majority of the crewed yachts you'll come across are catamarans. These tend to range from 40-70ft in length, so you can opt for as much space as you and your group will need.
Catamarans have two hulls, which creates a spacious communal area on the main deck. This is where you'll usually find a light and airy saloon, with an open plan kitchen space.
On the outer deck you'll find a flybridge – the raised seating or lounging area by the cockpit. This is the perfect spot for an evening cocktail, and the ultimate vantage point for a sense of real nautical freedom. You'll also have all manner of sun loungers, trampolines and an al-fresco dining space too. Anything but cramped and confined.
As for your sleeping quarters – you can expect double en-suite rooms at a minimum. Many yachts also have a master suite with a king sized bed and a secondary versatile office/saloon space.
Charter yachts are designed with comfort and safety as the primary features. Attention to detail throughout the boat means that no opportunity is missed, to make this the ultimate in luxury and relaxation.
Myth 3 – We'll Be All At Sea
It could be easy to assume that a sailing vacation means a week or two without setting foot on dry land. Aside from refuelling and picking up supplies, this can be a reality, if you choose it.
However, one of the real draws of a sailing vacation is the ease and versatility with which you can explore Earth's many paradises.
Sure, the warm Caribbean waters are stunning, and you could easily while away lazy days enjoying all that your yacht and the clear seas have to offer. But there's so much to see and experience on the Caribbean islands, that a trip ashore will be sure to delight. From the incredible Baths of the British Virgin Islands, to the inviting white beaches of St Vincent and Grenadines.
If you're in the Mediterranean, perhaps all you'll need is a warm breeze and a beer in hand for your ultimate sailing experience. However, on land you may be tempted to explore clusters of traditional Croatian fishing villages. The incredible volcanic landscapes of the Canary Islands are a stunning backdrop to marvel over from your flybridge, and possibly even more amazing for a day's hiking excursion.
Remember, your crew are local experts and will be delighted to make recommendations on unmissable local sights, and they'll be equally delighted to take you ashore for some exploration.
Myth 4 – Too Difficult to Organise
Far from it. An all-inclusive, crewed charter takes all of the stress out of planning a sailing vacation. Everything that you could need to consider or organise is, well… all included. All you need to do is describe your dream vacation to your yacht.vacations consultant. They will then search and compare yachts matching (or exceeding) or expectations. Your consultant will then negotiate with our partners on your behalf to guarantee the best possible price and package for you.
Next, you chat with your crew to discuss your preferences in terms of menu, beverages, itinerary and water toys. They will ensure that all of this in place for your arrival.
All you need to do then is pack your suitcase and step on board.
An all inclusive charter hands over a huge chunk of the logistical planning and preparation. Leave it to us.