Sailing from Miami To The Bahamas
Miami to Bahamas
Here at Yacht.Vacations we're often asked about how to charter from Miami to Bahamas. Is it possible? Is it easy? Is it expensive? Is it worth it?
We're here to answer all of your questions – and those you never thought to ask!
Here's our guide to chartering from Miami to the Bahamas.
Why Miami?
In case you weren't aware, Miami is a prime spot for boat rentals. There are several busy marinas with a wide variety of boats to choose from. It's also home to the Miami International Boat Show, drawing 100,000 visitors each year.
With so much choice, it may seem a bit of a minefield when it comes to finding and booking the perfect boat. That's where we come in – we're able to search and compare different providers and fleets to ensure you snag the best option for your trip.
Miami airport to the marinas is also a breeze, with several transport options. And of course we're on hand to advise.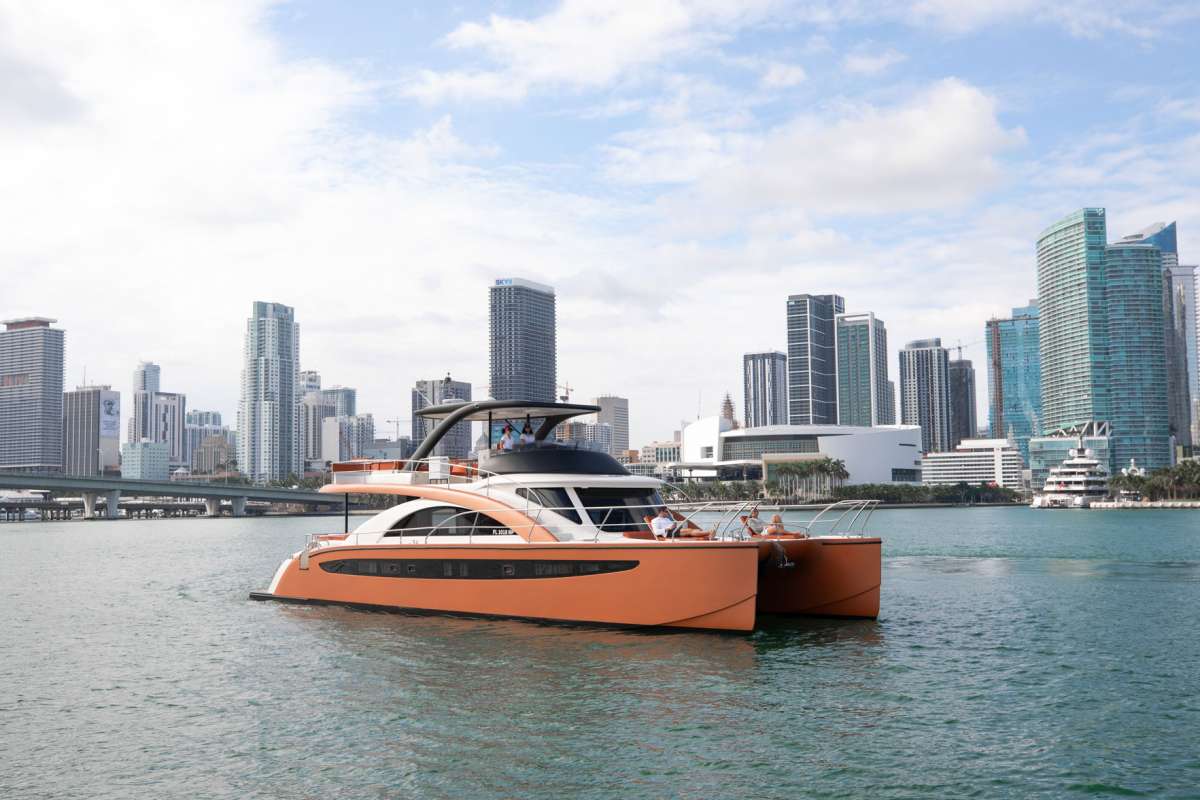 All aboard!
Once you've boarded your new home from home, it's time to set sail.
The Bahamas lie east of Florida, with the nearest point, Bimini, being only 50 nautical miles away. Bimini is comprised of three islands: North, South and East Bimini. Even if it's not your ultimate destination, it's well worth stopping by en route.
Crossing the Gulf Stream out of season isn't always an easy passage. In summer, the waters are calm and beautiful, with rarely more than 1-2 feet of swell. Out of season, you could experience swells of up to 10 feet. If you're an experienced and adventurous sailor, you may relish the challenge! Otherwise, allow your captain to expertly guide you across the passage. Approximately 50 recreational vessels make this journey each day, so it's perfectly safe and possible.
How long will it take?
Of course, this depends on your boat! With a motor yacht, you can reach Bimini in under three hours, and Marsh Harbor or Nassau in a day.
A vessel averaging six knots will take most of the day to get to a decent harbor in the western Bahamas. You may need to allow a couple of days to reach The Abacos or northern Exumas. Again, the powerful Gulf Stream is your main contender here. We recommend erring on the side of caution when it comes to factoring in your timings.
If you're unsure about the best type of boat for your trip, just give us a call. We'll be happy to talk through your plans and make recommendations.
What awaits me in the Bahamas?
Well… a paradise of relaxation, adventure and exploration to start with! The Bahamas are a 5,358 square mile archipelago. Approximately 700 islands and cays, and 180,000 square miles of ocean.
These islands are known for the stunning, clear waters that surround them. They're a haven for swimming, surfing, fishing or simply lying on the beautiful beaches.
Those who make the crossing are greeted by hot, dry weather, with year-round averages above 80°F. Sea temperatures are around 70°F in winter, and reach over 80°F in summer. Summer can bring some wet weather, so that's worth factoring in when you plan your trip.
The Sea of Abaco is definitely not to be missed. This area is loved by sailors from across the world for its clear warm waters. It's also home to the world's fourth-largest barrier reef – a vibrant paradise of marine life. Definitely a bucket-list experience for divers.
On Exumas, you may be greeted ashore by the famous swimming pigs, as well as friendly iguanas and sharks!
Nassau, the capital, offers endless incredible attractions. Rum distilleries, museums, water parks, beaches can all be found here, with something guaranteed to keep each member of your group enthralled.
What should I pack?
Well, this does depend a little on your personal preferences when it comes to charter vacations, but as a guide, we'd suggest the following:
Your passport, with current Bahamian stamps and travel dates
A fishing permit for Bahamas waters, if you're a keen angler
Sun protection, in the form of sunscreen, long-sleeved shirts and pants, and polarized sunglasses
Provisions, if you're bareboating. Make sure you've got enough food and water to see you across the Gulf. Of course, if you're going all-inclusive, your crew will have this all taken care of
Snorkel, diving and fishing equipment, if not already aboard your boat.
What next?
First of all, give us a call! We're on hand to discuss your charter ideas, search and compare different boat options, and find the best possible option for you. Checkout our Bahamas Destination Guide for more information, and we'll be delighted to clear up any remaining questions about the Miami to Bahamas charter experience, and are dedicated to making your sailing dream a reality. Contact your yacht.vacations consultant today.