St Vincent and Grenadines Sailing Itinerary
Welcome to St Vincent and Grenadines! Arguably underrated and definitely recommended, these stunning Windward Islands have some idyllic sailing opportunities and incredibly diverse scenery and wildlife, awaiting discovery.
There is some debate as to the best route when sailing these waters – this will depend a little on your sailing experience and the level of adventure you're seeking. We're going to describe our recommended itinerary, assuming you have some sailing experience, or are taking a crewed charter.
St. Vincent
When chartering in St Vincent and Grenadines, the likelihood is that you'll meet your yacht in St Vincent, so this is where our journey begins.
This stunning 18 by 11 mile island remains largely un-touristy. Which is curious, as it has so much to offer. Before you depart, you may wish to hike the Trinity Falls, a trio of stunning waterfalls (check in advance whether these are open to the public, as there have been some closures due to unstable walking conditions). Other worthwhile sights are the views from the top of La Soufrière. We also recommend heading to the north of the island to explore the Bamboo Forest.
Day 1 – Bequia
From here, a short sail south takes you to Bequia. This historic whaling area is a firm favorite with sailors, with a rich culture of seafaring and boat building.
The town reflects these traditions, with many nautical themed bars, markets and craft shops to browse.
In terms of water sports, Moon Hole offers some excellent scuba opportunities, as does Devil's Table.
Day 2 – Mustique

Known as the playground of the rich and famous, amongst these islands – Mustique is definitely worth a visit. This 1400 acre island is privately owned, and features around 100 mansions and estates – homes of royalty and rockstars. Although exclusive, vacationers can still enjoy the extraordinary beaches and hiking trails of the island. You can even take a horseback or bicycle tour.
Lagoon Bay and Macaroni Bay beaches have incredibly soft sand. Britannia Bay, the main harbour of the island, is built on stilts over the water. It's home to Basil's Beach Bar – the go-to spot for drinks, dining and mingling with locals and fellow vacationers.
Day 3 – Canouan
This hilly slice of heaven has it all – a variety of viewpoints, more beautiful beaches and excellent diving opportunities.
The snorkelling in Friendship Bay is best enjoyed before lunch at a local seafront restaurant. Those who like to go a little deeper will find reefs, walls and boulders, teeming with vibrant wildlife. The beaches here are considered some of the best in the Caribbean.
In terms of entertainment, you can expect luxury resorts, chilled-out bars, golf clubs, spas and even a casino.
Day 4 & 5 – Mayreau
You'll most likely want to spend at least a couple of days enjoying Mayreau.
Salt Whistle Bay covers the northern point of the island and is split into two beaches – Leeward and Windward.
Leeward beach has plenty of amenities, including huts at the south end where locals sell art and jewelry. Make sure you try the lobster from local celebrity 'yellow man'!
This is the ideal spot to while away the afternoon under a coconut tree.
If you're looking for a little more action, head to Windward beach. The surfing here is considered world-class.
Onwards to another spectacular part of Mayreau – Tobago Cays.
The anchorage at Tobago Cays is enveloped by a huge reef, creating the perfect spot for snorkelling. The cays are comprised of five islands, surrounded by turtles who feed around the area. In fact, just off Baradel there's a dedicated turtle-feeding area, giving you the opportunity to get even closer to these magnificent creatures.
These waters also home to lobster and many different types of fish – making for some excellent fishing and dining experiences. Beach barbecues and parties are popular here – and the sand is perfectly powder-soft.
On shore, if you summon the energy to summit some of this hilly terrain, you may be rewarded by encountering some of the near-tame, local tortoises and iguanas.
Day 6 – Petite St Vincent
Another privately-owned island, and the most southern of St Vincent and Grenadines. Petite operates as a luxury eco-resort, scattered with cottages and villas. The bar and restaurant is a striking stone building with an ambient courtyard. They offer incredible dining and even better views across the sea. You can expect a relaxing evening on Petite St Vincent, although you may be accompanied by parrots and fireflies.
Stop by Mopion whilst you're here – a tiny sandy islet occupied by a single thatched sun shelter. The waters here are shallow, and thus incredibly warm and inviting. A picnic here is definitely recommended.

Day 7 – Halifax Bay, Grenada
An early start is recommended, as it's an open crossing to Grenada. Head down the west coast to Halifax Bay. If you have the time, a land tour here is exceptional – including rain forest, cane fields and spice farms, a real taste of Grenada's history as the Spice Isle. The coastlines here are stunning – natural rugged beauty which are best enjoyed from your boat.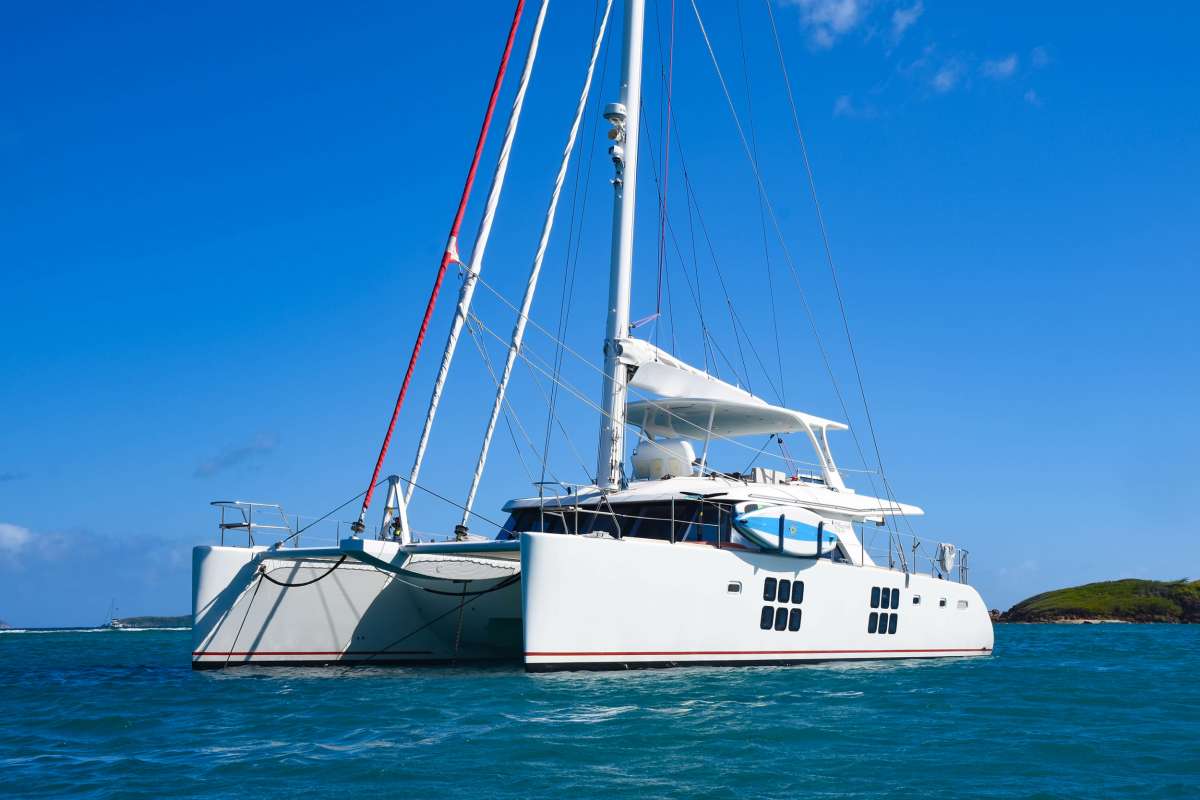 And beyond…
Depending on the duration of your charter, this may be your last port of call (for this trip at least….). If you're a little more flexible time-wise, there are plenty more nearby sights to be added to your itinerary. Remember, this guide is simply a suggestion, your vacation can be totally custom-made!
Your yacht.vacations consultant, and your crew, will be able to make recommendations and arrangements to enable you to fit as much or as little into your charter.