The Best Beach Bars in the Bahamas
There are hundreds of bars and restaurants throughout the Bahamas that serve up amazing eats along with a side of great vibes. But there's only a handful that are perched on the edge of some of our favorite beaches. We've come up with this Top Ten list based on ambience and food, but first and foremost, for their ocean views from the deck or dining spaces. These locations all have a great beaching where you can have the tender drop you off, go for a refreshing dip or take a walk in some powder soft sand after your meal.
Typically these establishments will have a nice mix of locals, seasonal homeowners, boaters and tourists. There are many more that range from lean-to's to high-end cuisine, but most of the ones on our list are somewhere in between, serving up a laid-back flip-flop vibe, great music and ice cold beers.
So here they are in no particular order…the Top 10 Best Beach Bars in the Bahamas.
1. Chat 'N' Chill, Stocking Island, Exumas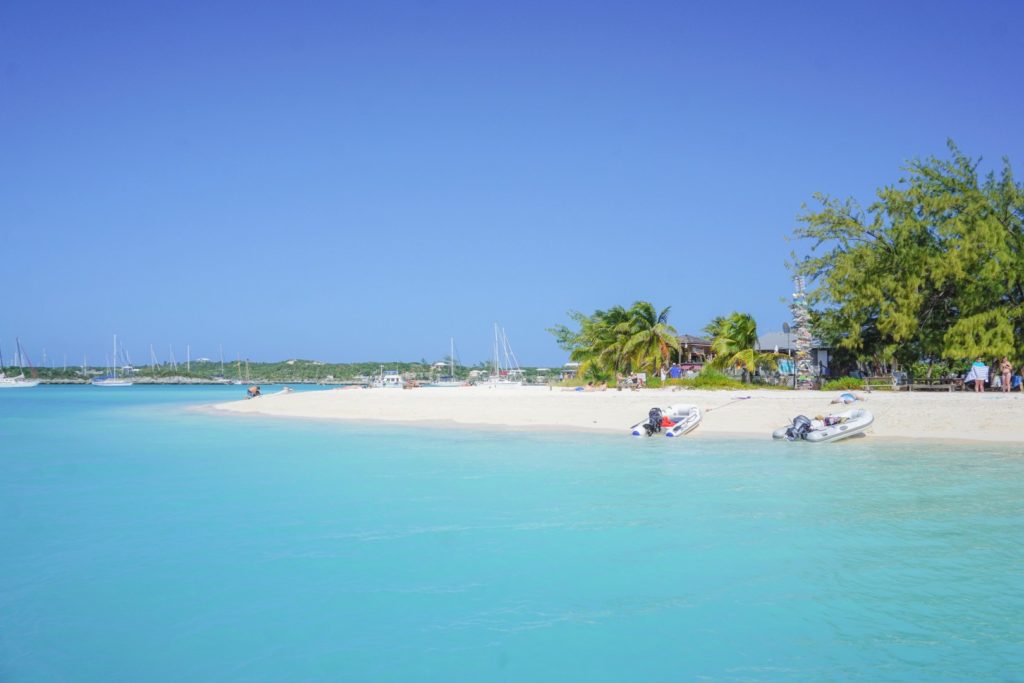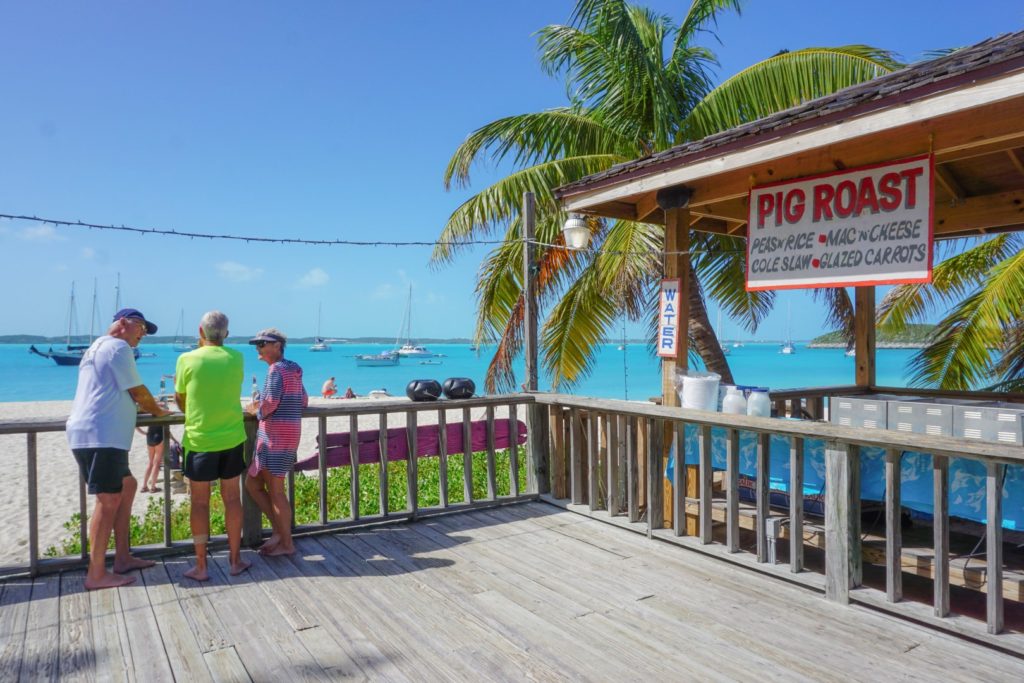 Located on a sandbar on Stocking Island, Chat 'N' Chill is a popular spot for cruisers, vacationers and locals. It's only accessible by boat, and you'll find the beach crowded with dinghies during the winter months, but there's also a dock within a small protected harbour allows for water taxis and center consoles to pull up so guests can arrive without getting their feet wet. On normal days, the menu serves up burgers and Bahamian food, and on Sunday is their famous pig roast, along with fresh made conch salad from their conch bar. It's host to numerous events of the George Town Cruising Regatta in April each year.
2. Sip Sip, Harbour Island
Sip Sip is the local term for gossip. When you get the "sip sip" on something you're getting insider information. Sip Sip was established as a sort of a social house of the community of Harbour Island, but word has gotten out about this lunch-only restaurant and each day there's a line up for table seating. The menu changes daily based on what is in season, including tasty items like chilled gazpacho, tuna carpaccio and grilled wahoo with quinoa. Their crafted cocktails are intoxicatingly delightful. Make sure you try the Passion Fruit Sangria and if you have room for another, the Sip Sip Rum Punch. For those with a later seating, many often linger around their cocktails, enjoying the views of Pink Sands Beach.
3. Tippy's, Governor's Harbour, Eleuthera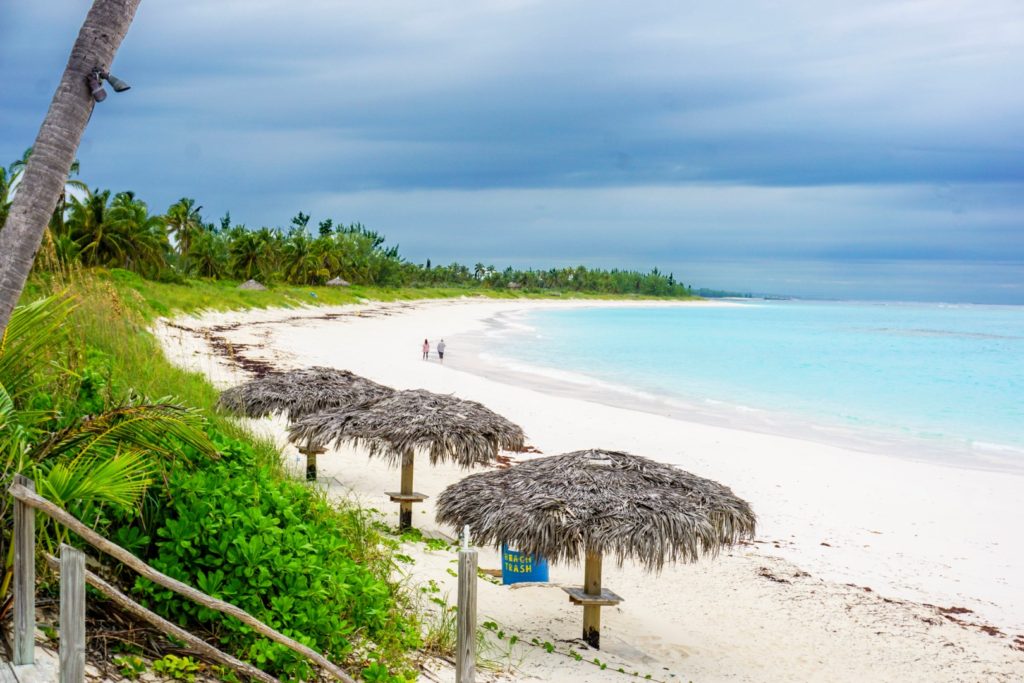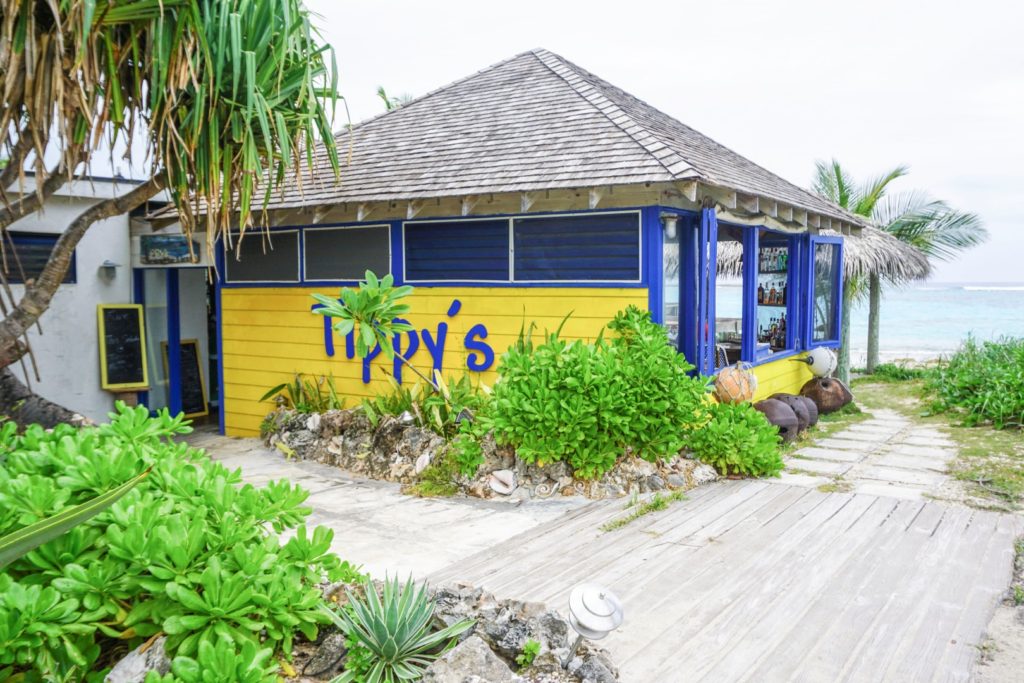 No trip to Eleuthera would be complete without a stop off at Tippy's Restaurant & Beach Bar. Located across the road from Pineapple Fields on an ambling stretch of powder-soft Eleuthera beach, this well-known establishment has been drawing the beach bar crowd for many years with its fresh, homemade meals, ocean views and live entertainment. The open-air restaurant is painted in primary yellow and blue and the shady dining area overlooks a beautiful stretch of Atlantic beach. Interior whitewashed paneled walls and colorful painted wood beams accented with string lighting make this laidback beach bar a welcoming spot. On Saturday evenings you'll find a crowd of winter residents jamming to a local band. The menu changes daily, but can include salads with local, organic greens, beet salad, homemade pizza pies, homemade conch ravioli, spring rolls and lasagna.
4. Sandbar Bar & Grill, Spanish Wells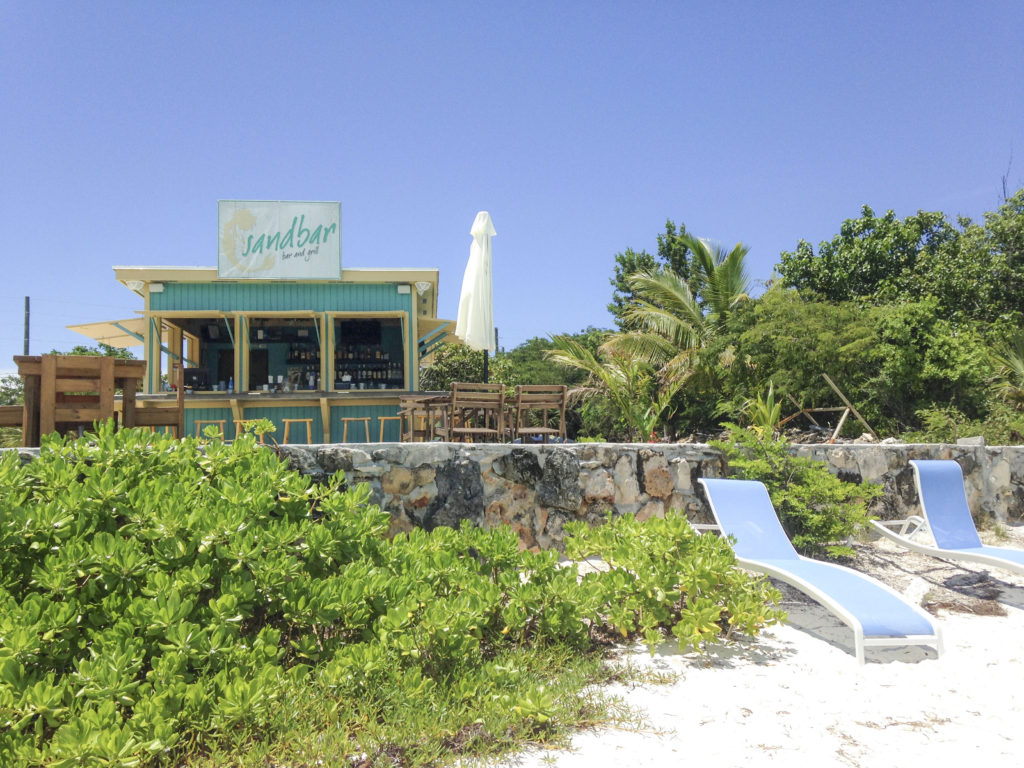 The Sandbar is located out on Russell Island, just over a bridge and a golf cart jaunt from the bustling town of Spanish Wells. Well, of course you can arrive by land in the typical fashion, but you can arrive to their crescent white sandy beach by boat. This spot has a great beach bar vibe with happy hour drink specials daily from 6-8pm. Serving fish in a bag with veggies and potato wedges, and poutine (a dish you won't typically find on Bahamian menus) which is French fries smothered in gravy and melted cheese. Make sure to get one of their hand-crafted cocktails such as a rose slushie, watermelon cooler or a fresh squeezed margarita.
5. Tiny's Hurricane Hole, Long Island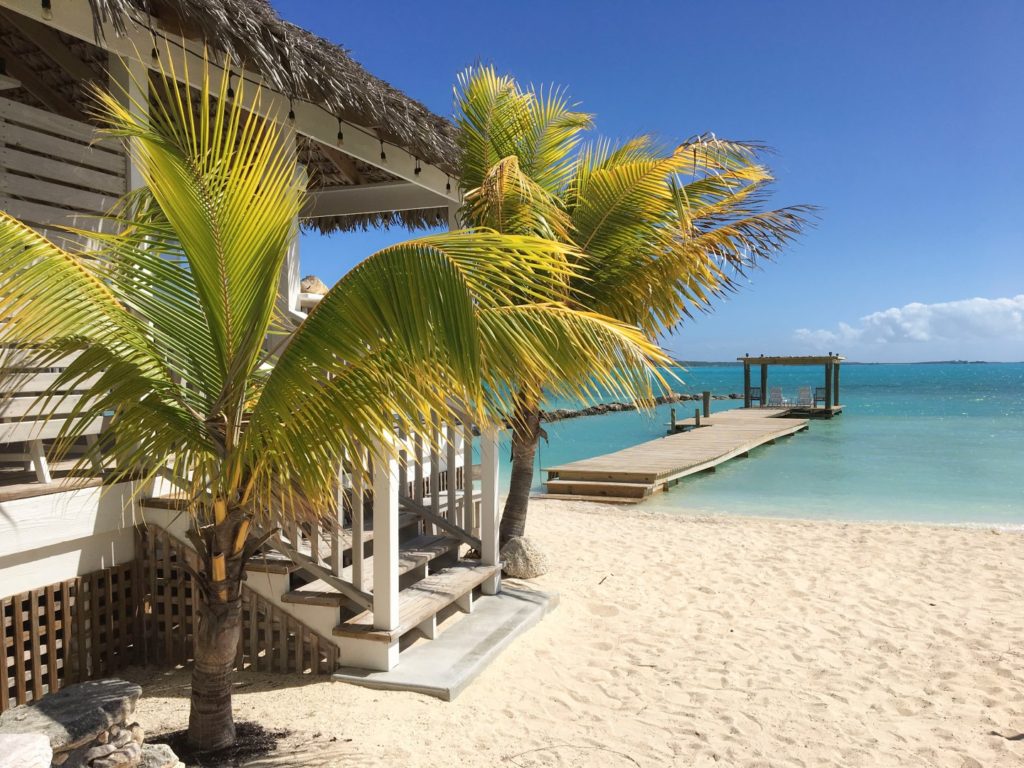 Tiny's Hurricane Hole is located down a long dirt road just outside of Salt Pond on Long Island. Once you arrive you'll feel as though the clock has slowed to island time. Try their fantastic cocktails such as a Tiny's Tonic, Moscow Mule or homemade margaritas (no pre-made mixes!). Menu items include burgers, sandwiches and handmade pizza. Enjoy the sunset on their tiny stretch of white sandy beach overlooking the protected bay while you mingle with sailboat cruisers and the local expat crowd. Find a quiet reprieve under the gazebo with hammocks and Adirondack chairs, or stay for the weekend in their adorable guest cottages.
6. Nipper's, Great Guana Cay, Abaco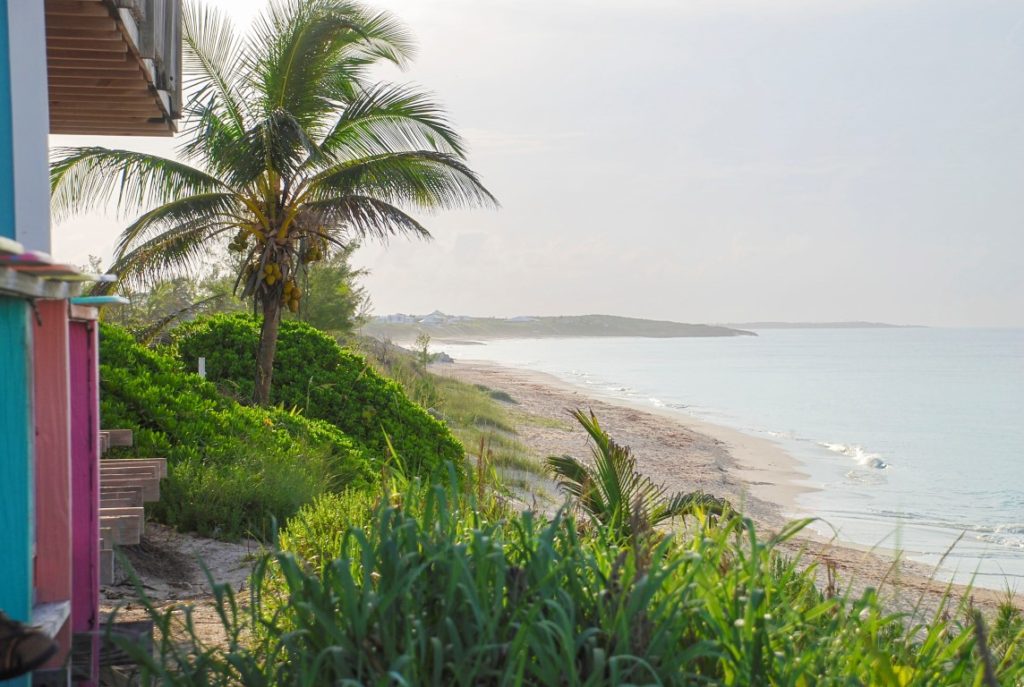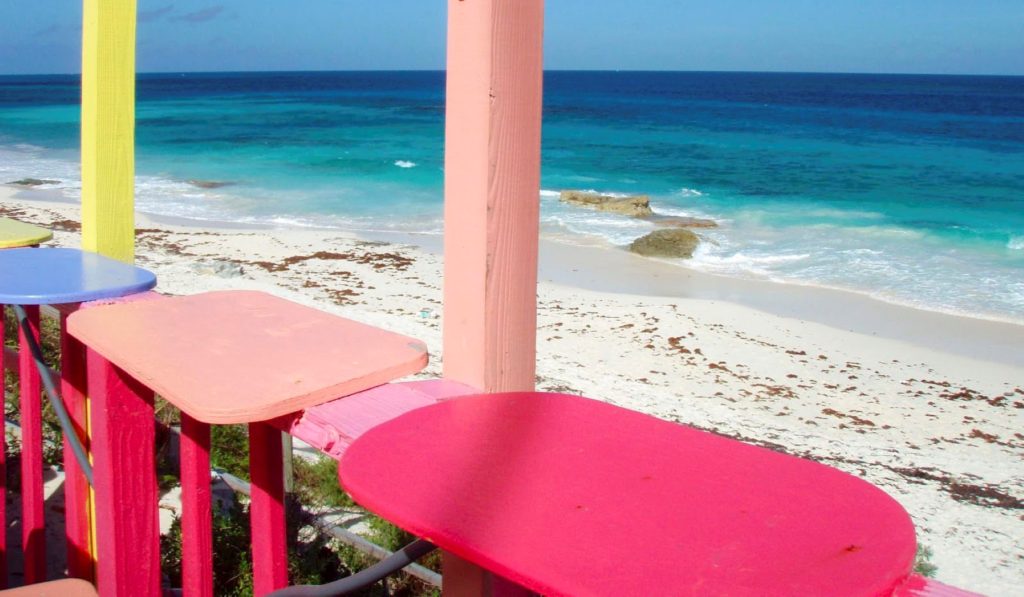 Nipper's Beach Bar & Grill was created purely with the partier in mind. Playing Caribbean music, reggae, and tropical country this ocean-front beach bar is quite the hot spot of The Abacos. Wherever you decide to stay in The Abacos, try to make an effort to get to Guana Cay and visit Nipper's. Try a potent Nipper's Juice, or several. Soak up the tropical sun while floating in their pool, or wander down to the beach and take a cooling dip in the ocean. Serving up tasty Cheeseburgers in Paradise and Bahamian seafood platters, the bar stays open until the last patron departs. Nipper's hosts the annual Barefoot Man concert series at the end of March, so if you're in the area, make sure you get over to see the charismatic performer from Cayman. Many businesses in the Out Islands shut down for slow season Aug-Oct, but Nipper's is open 364 days per year.
7. Pete's Pub, Little Harbour, Abaco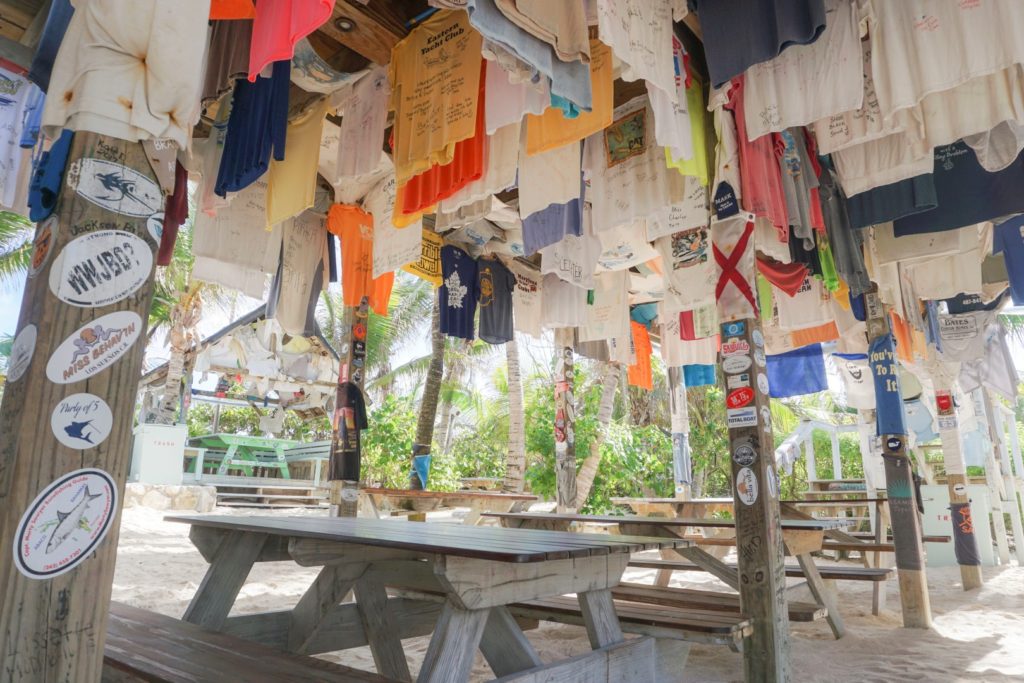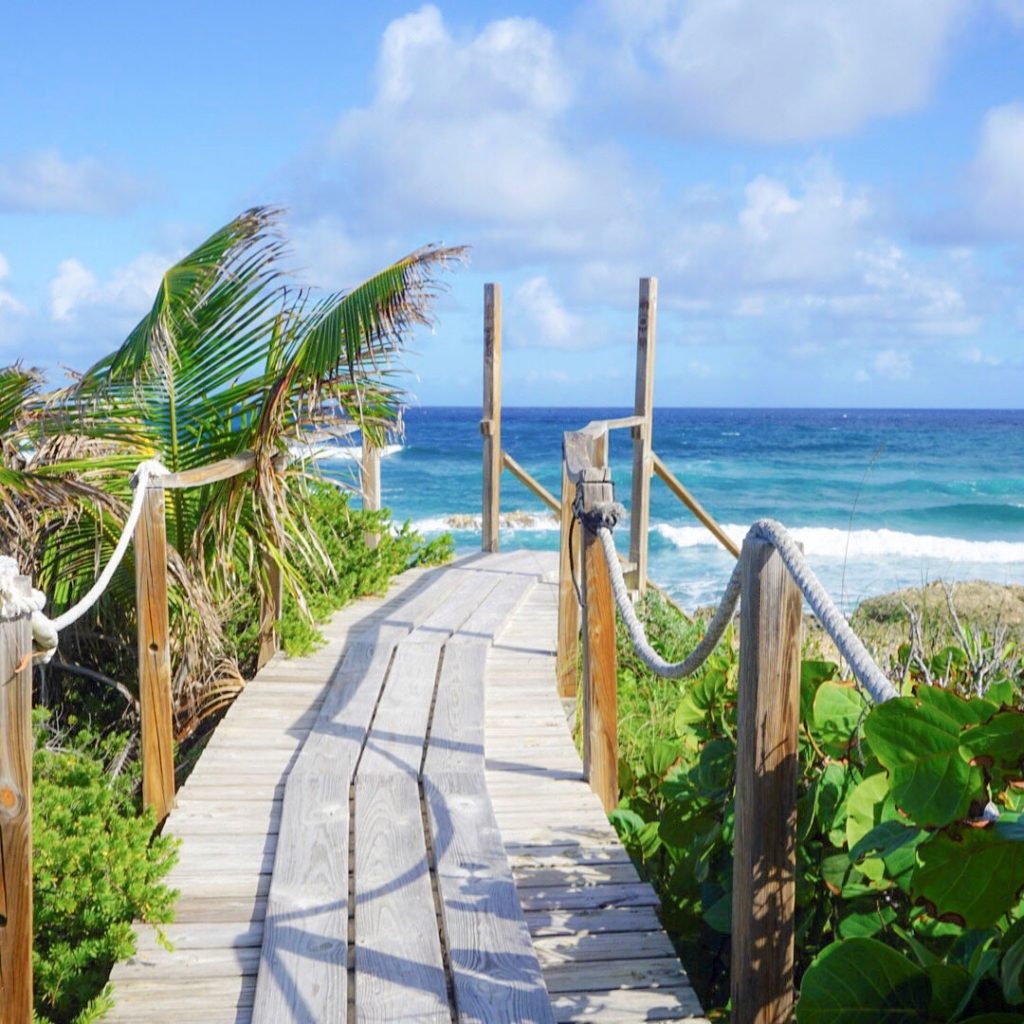 Next door to Pete Johnston's Art Gallery and Foundry is Pete's Pub, a funky open-air beach bar touting themselves not as a "topless bar," but a "sideless saloon". These are the only two establishments in Little Harbour, by the way. The pub menu serves a small selection of daily specials based on what's in season or what they might have caught that day. T-shirts from patrons adorn every inch of space, and the floor is a soft sandy bottom. You can follow a pathway to the ocean side and have a look at the craggy beach with a cold cocktail in hand. The harbour is extremely protected, almost a crater shaped and only about 2000ft at its widest point. If you are coming in by boat don't get there early in the day during season, you might have a hard time finding an aquatic parking spot to drop anchor.
8. Nirvana, Love Beach, New Providence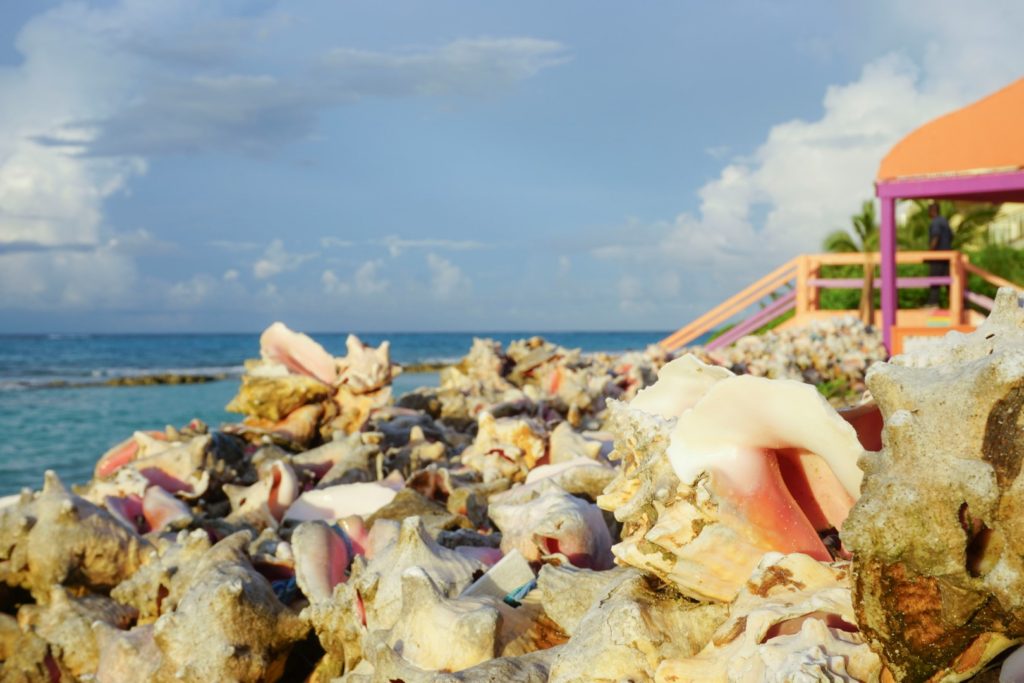 This one made the list because it's the only place in Nassau where you truly feel like you're in an Out Island. The bar is situated right on Love Beach, a gorgeous stretch of beach despite the fact that it's directly under the incoming planes to the international airport and lined with condos. It's a popular spot on Friday afternoons for the after-work crowd, and on any given day of the week taxis arrive carrying cruise ship passengers from downtown who are looking to escape the throngs of tourists. Their food might not be the main reason for your visit, but they do have a conch salad bar and sometimes on the weekends, you'll find Anthony grilling up a selection of meats on his barrel BBQ cooker.
9. Banana Bay, Fortune Beach, Grand Bahama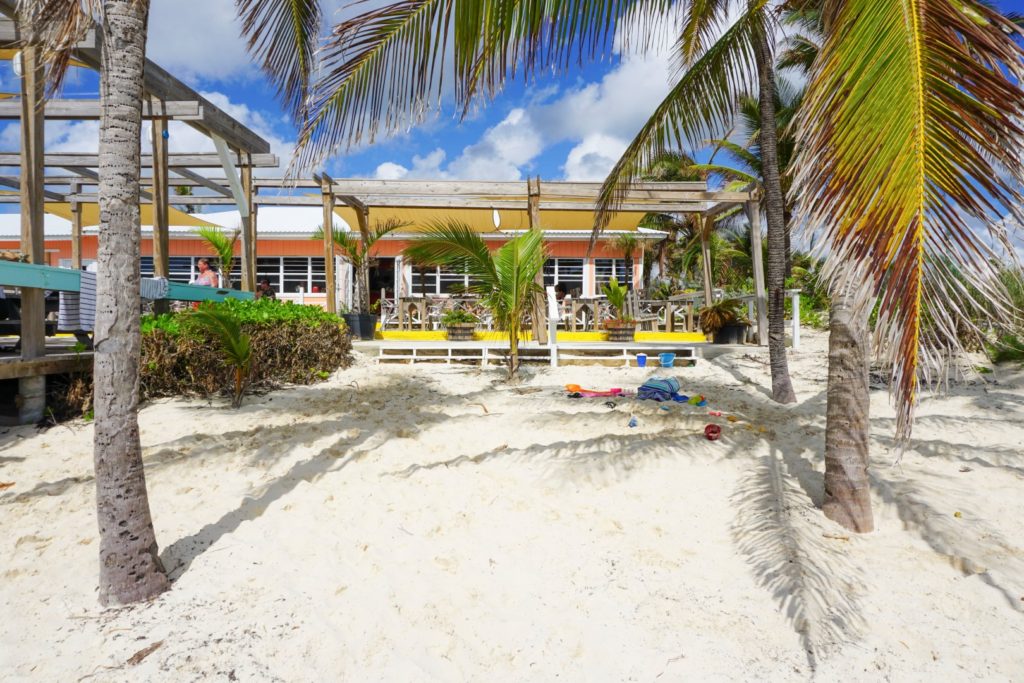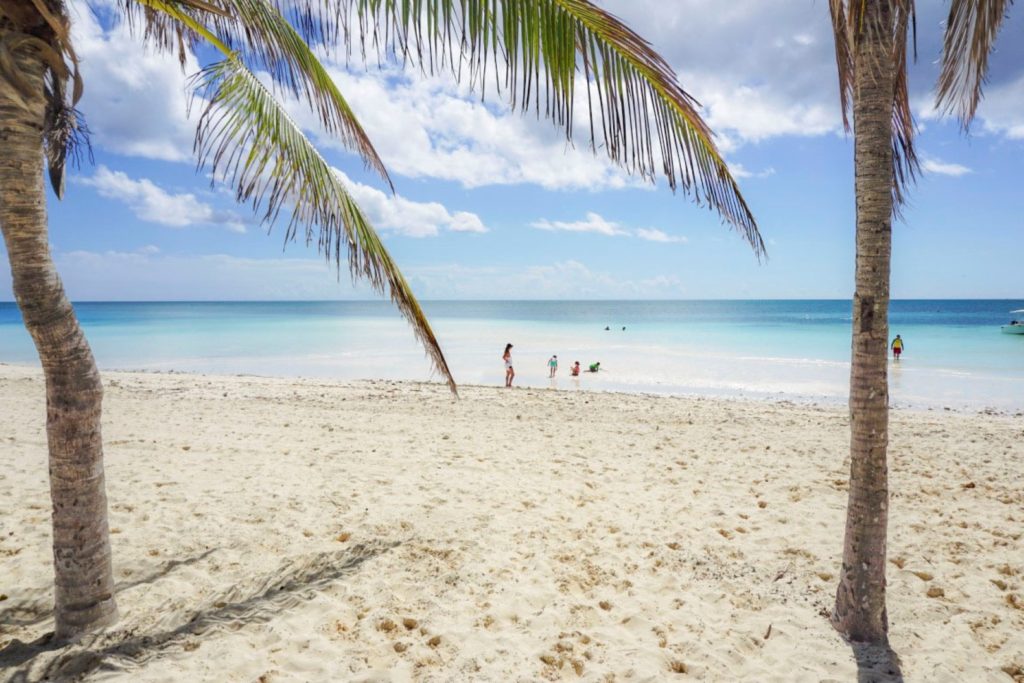 Banana Bay is a hot spot for both locals and tourists. Perched front and center on Fortune Beach, this is arguably the best casual oceanfront dining in Grand Bahama. There is both outdoor and indoor dining, but you will be well advised to sit outside and enjoy breathtaking views of Fortune Beach. There are daily specials, as well as long-time favorites like Indian Summer Curry Chicken Salad, Grouper Sandwich, Crab Cakes, and Mahi Tacos. If you have a sweet tooth, don't miss their delectable homemade Banana Bread. Cocktail specialities include the Frozen Wacky Banana, Guava Duff (a dessert inspired rum drink) and the Frozen Tango Mango Daiquiri. Bring your swimsuit and go for a dip in the sea after lunch.
10. On Da Beach, Elbow Cay, Abaco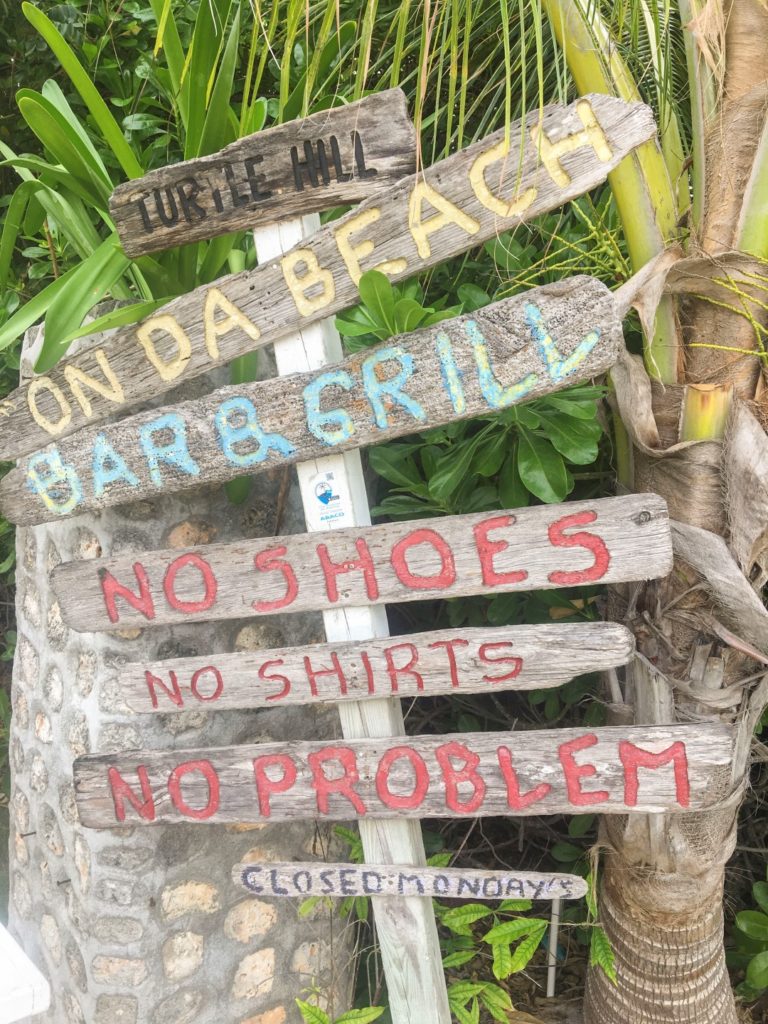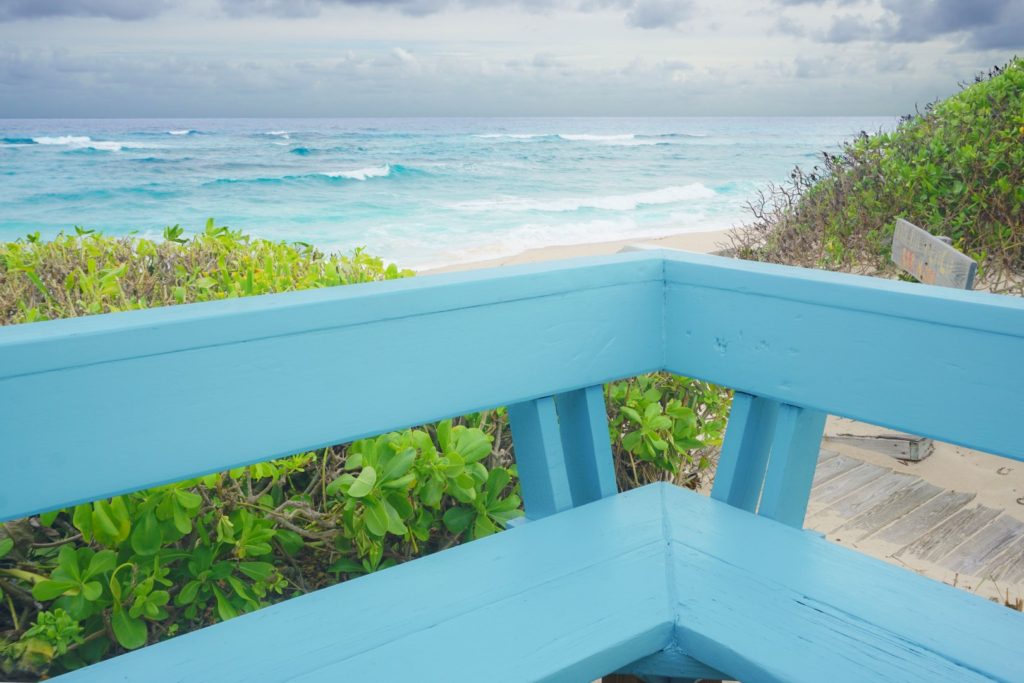 On Da Beach is located less than a mile south of Hope Town, about 10-15 minutes by foot. Look for the signs to Turtle Hill at the bend in the road and you'll follow a sandy path down towards the beach. This colorful open-air bar is elevated above a beautiful stretch of beach. It's super casual, barefoot beach vibe makes it one of the top spots for a daytime watering hole. Expect simple and tasty Bahamian dishes, like grilled fish sandwiches, shrimp skewers and lobster salad. Sunday is popular for chicken souse. Kids love the beach because of the waves to play in. It has one of the longest happy hours around from 4pm-7pm and serves draft Sands beer.