Welcome to Black Tortuga. An interview with the Crew of Sail Catamaran Black Tortuga
Black Tortuga is a beautiful Fountaine Pajot Saona 47 sailing catamaran, currently based in the Caribbean, for tours of the US & British Virgin Islands. Along with the 2 crew members, she sleeps 8 Guests in 4 spacious cabins. Amongst the crews many skills, Captain Brian is an award winning photographer ready to capture all of the moments to remember forever. He is especially proficient at imaging underwater. Also being a videographer, those fast moving moments won't be lost. Make sure you see the full details of Sail Catamaran Black Tortuga.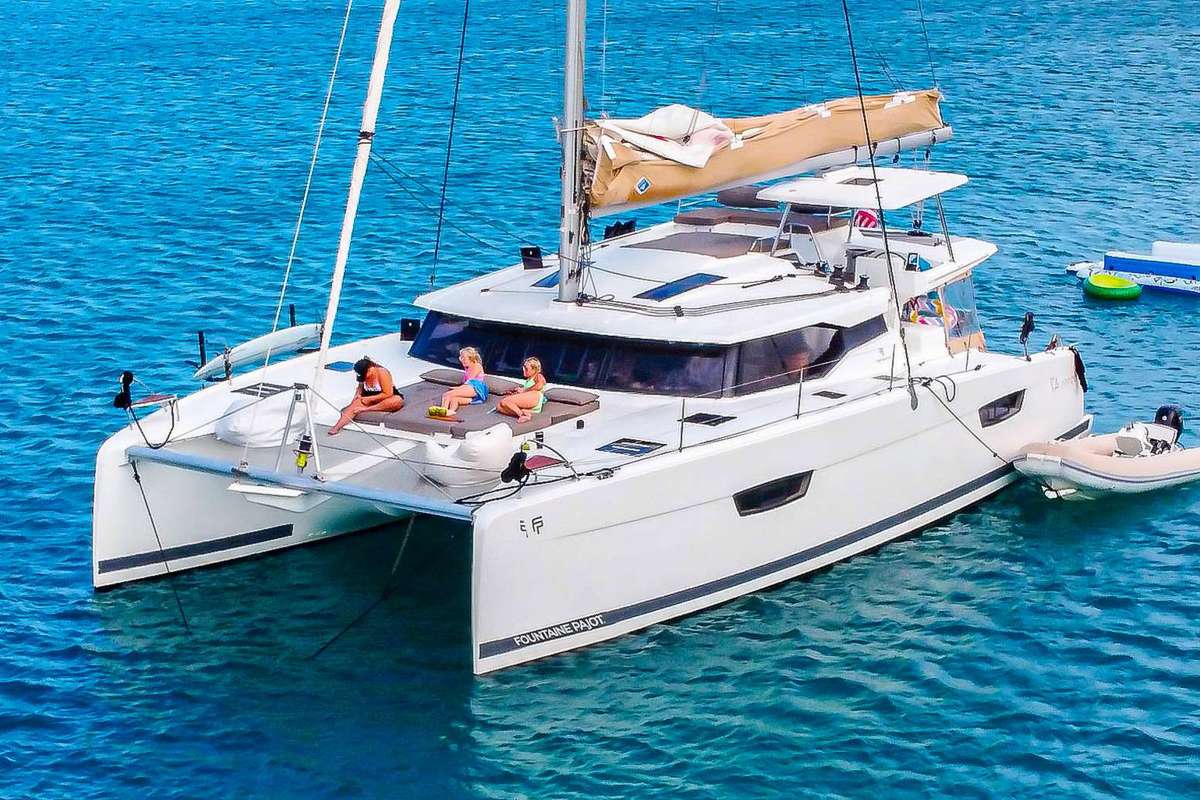 Where do you welcome your clients?
Typically on St Thomas in USVI. Unless requested otherwise, we welcome our guests at Yacht Haven Grande Marina. Brian greets clients when they hop out of their transportation and Elena has cocktails and cold towels ready aboard Black Tortuga.
Are the boats at the marina or at a mooring when the clients arrive?
We will have Black Tortuga in a slip at Yacht Haven Grande unless otherwise requested. Our clients love being able to step onboard straight from the dock, but everyone has unique pleasures we cater to. If they want to swim to the boat, we will be more than happy to hand them a towel when they arrive!
What's the check-in process, and how long does it usually take?
When our clients arrive they wander all over Black Tortuga, checking her out completely. We usually do a ten-minute safety briefing after introducing guests to their cabins: climate controls and how to use the vacuum flush heads. Then we gather passports and we are on our way.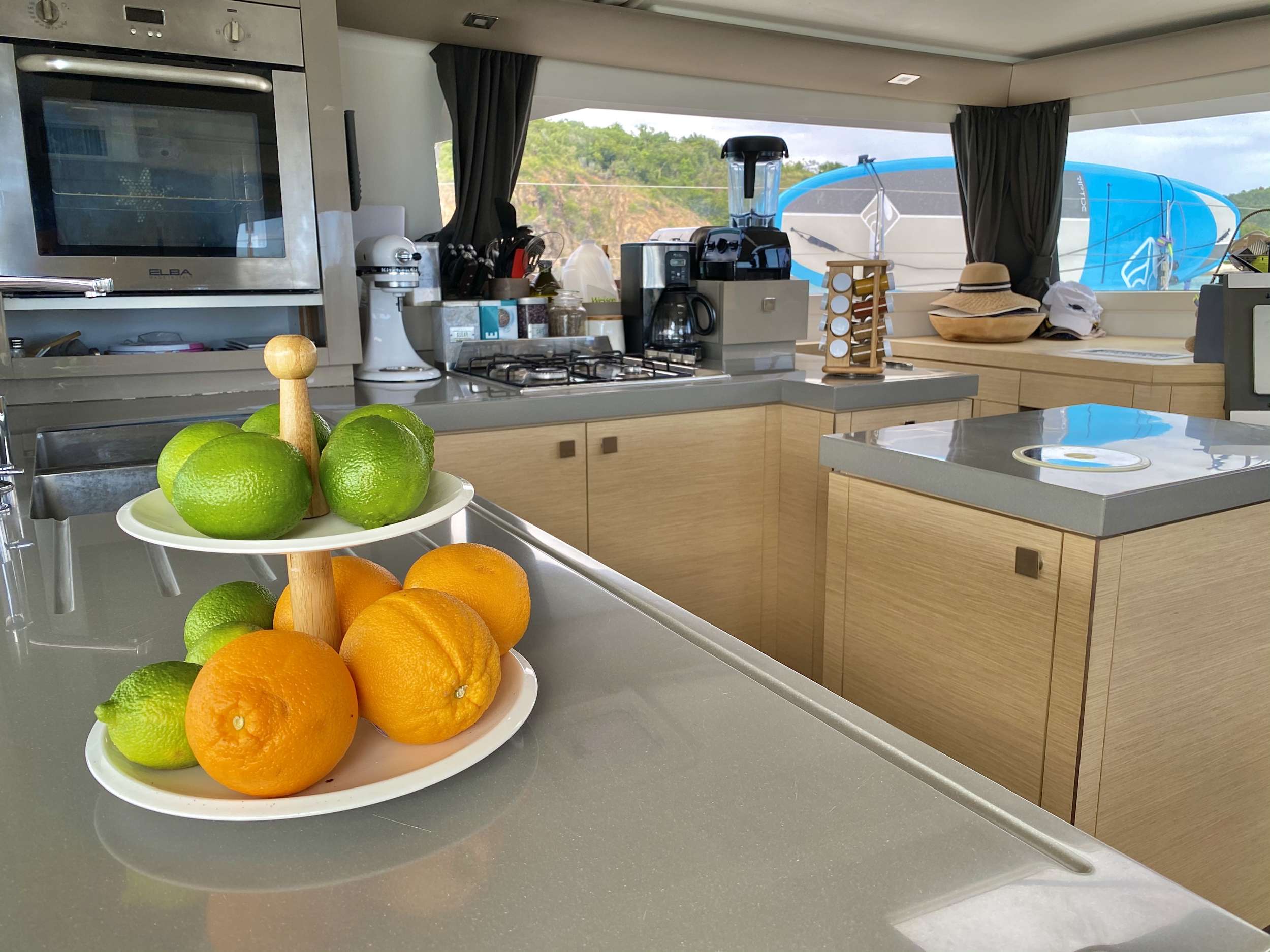 Is there anything especially important for clients to take in account at check-in?
Well yes! We operate on a buddy system at all times. We are divers, so we ask that everyone chooses a buddy they really care about so when it comes time to leave a beach bar and I ask if everyone has their buddy, we don't end up leaving anyone behind! No seriously, we do a sound off so will never leave anyone behind. Especially important is paying attention to how your toilets work. As happy as we are to assist with your every need, joining you for every bodily evacuation is less than ideal.
What does the first day, from landing at the airport, generally look like?
Step off the plane into the sweltering heat of St Thomas and fall into the welcoming arms of Dean, our amazing driver, who will take you to his air conditioned, sexy clean Mercedes Sprinter (yes, other drivers gawk and fawn over his ride!). He´ll proceed to tell you ways to have a great time in the islands all the way to Yacht Haven Grande, where you will find Brian awaiting you with a team of dockhands to carry your luggage (actually one dockhand with a golf cart…) to Black Tortuga, usually nestled between two very large super yachts.
Elena will greet you onboard with a cocktail and a cold towel to wipe away the worries of your travel. We show you everything you need to know about your cabins and then Brian proceeds with his safety briefing and plan for the week. Dependent on the hour of your arrival, we will push to sail as far as St John or maybe just a little ways out of the harbor to Buck Island for a spectacular sunset.
Elena prepares one of her favorite meals for dinner and we all fall in love with her over and over again as the tastes continue to work magic on our tongues all the way through one of her freshly prepared, completely homemade desserts. Then it's off to bed, to prepare for an unforgettable week!
What are the minimum and maximum recommended days for a trip?
We will take you on a day trip, but if you really want a feeling of staying onboard and waking up in paradise, 2 nights is absolute minimum. We have been able to hit all the highlights in five days, but that was extremely rushed and left very little time for sailing. We don't understand how there can be a maximum recommended days of a trip, there are just too many great things to do here and you will never be able to ´do it all´.
Do you organize pick up & drop off from the boat?
I will pick people up and drop them off the side of the boat depending on size and stature of the clients, but we prefer if they walk the plank we keep on board.
Any recommendations regarding flights? Is it better to arrive the same day, or get a hotel the night before?
We always suggest coming the day before. That way, if anything happens during your travels, you won't miss a day on the boat. Hopefully, your travels go flawlessly and you get to spend a night on land, getting used to the time zone, sleeping off the travel blues and generally getting pumped for your week aboard Black Tortuga.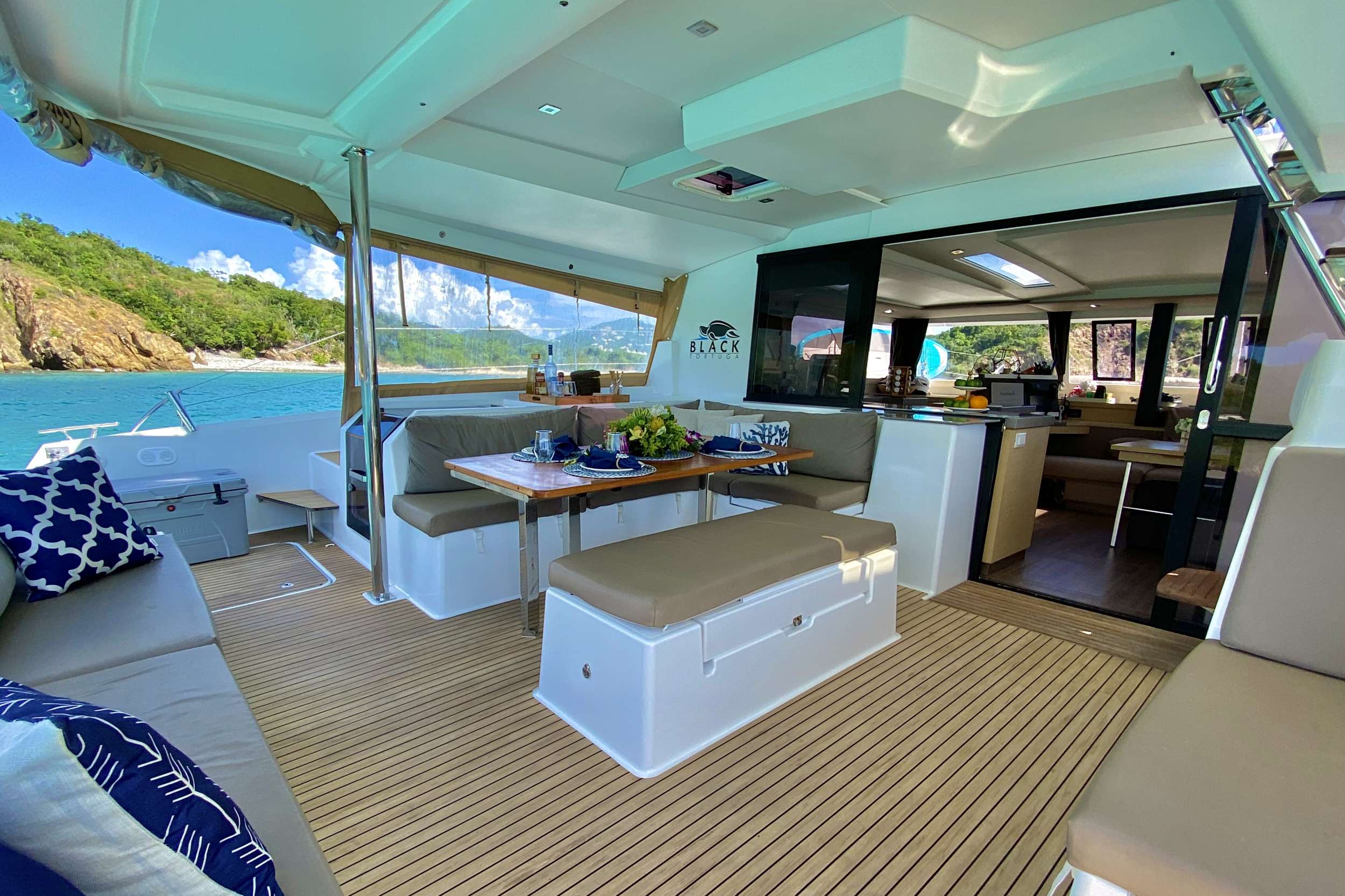 Life On Board
What should the client expect and what shouldn't they expect, both on the boat, and generally on the trip?
It's tough to say, every trip is different and unique, but though the name of the boat is turtle in Spanish, we are not actually sailing around on a turtle. Black Tortuga is fast when conditions are right. That being said, we also can't magically get from place to place, there is some amount of time between locations and the quality of the passage all depends on the weather which we can not control. Expectations should be limited to the unexpected! We will do everything we can to meet your expectations, but some physical limitations are outside of our control, which could be anything from a small squall to a worldwide pandemic not allowing us to cross our usual borders.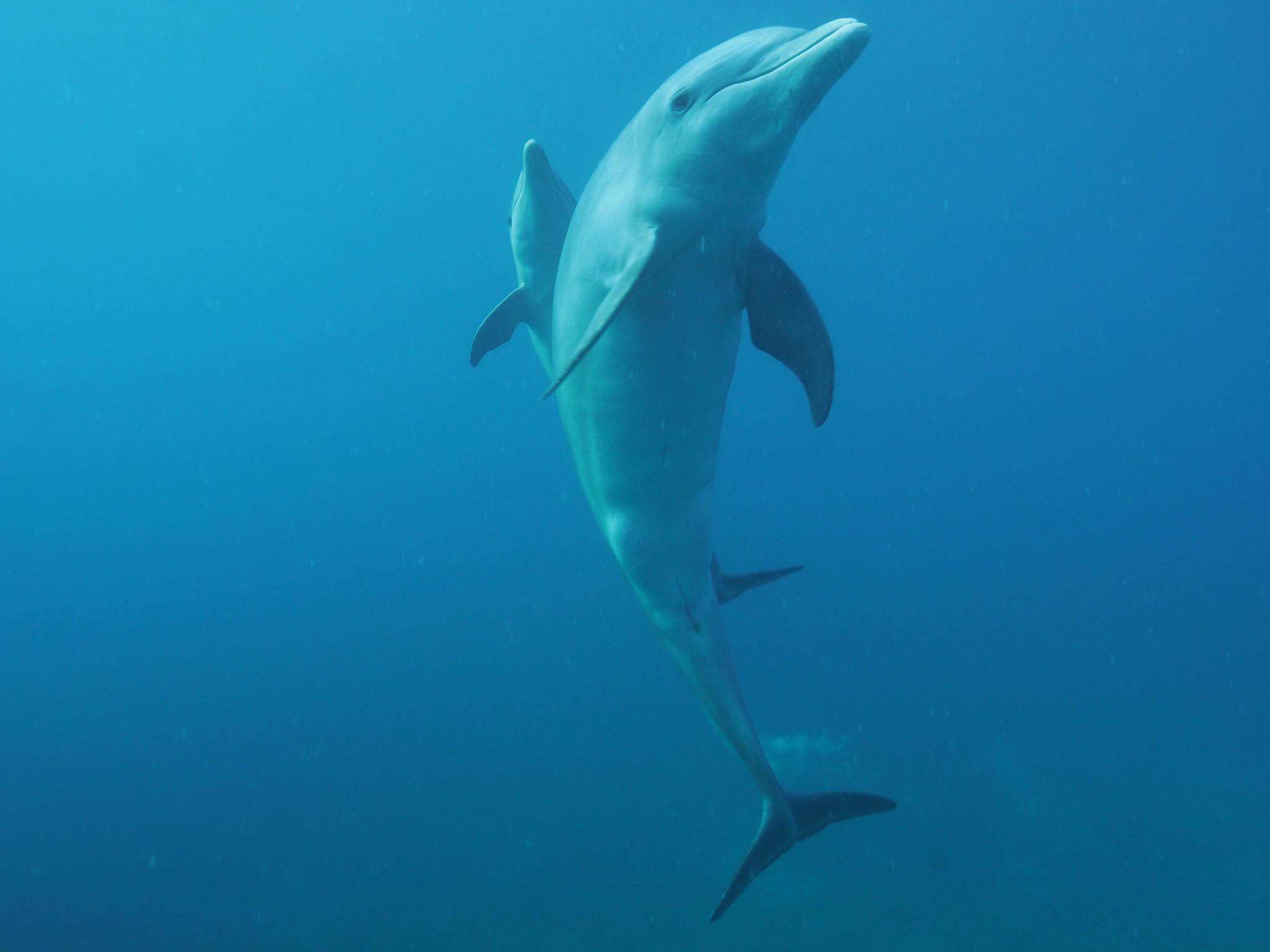 Do you have a favorite, or special menu you like to cook?
Elena likes to provide healthy and delicious food that will provide the good fuel for clients to go hard all day in every activity, and it's disguised in a cake…
Fresh food: fishing, delivery to the boat?
Before every voyage we buy our fresh food and produce at the market from local vendors. Island fresh.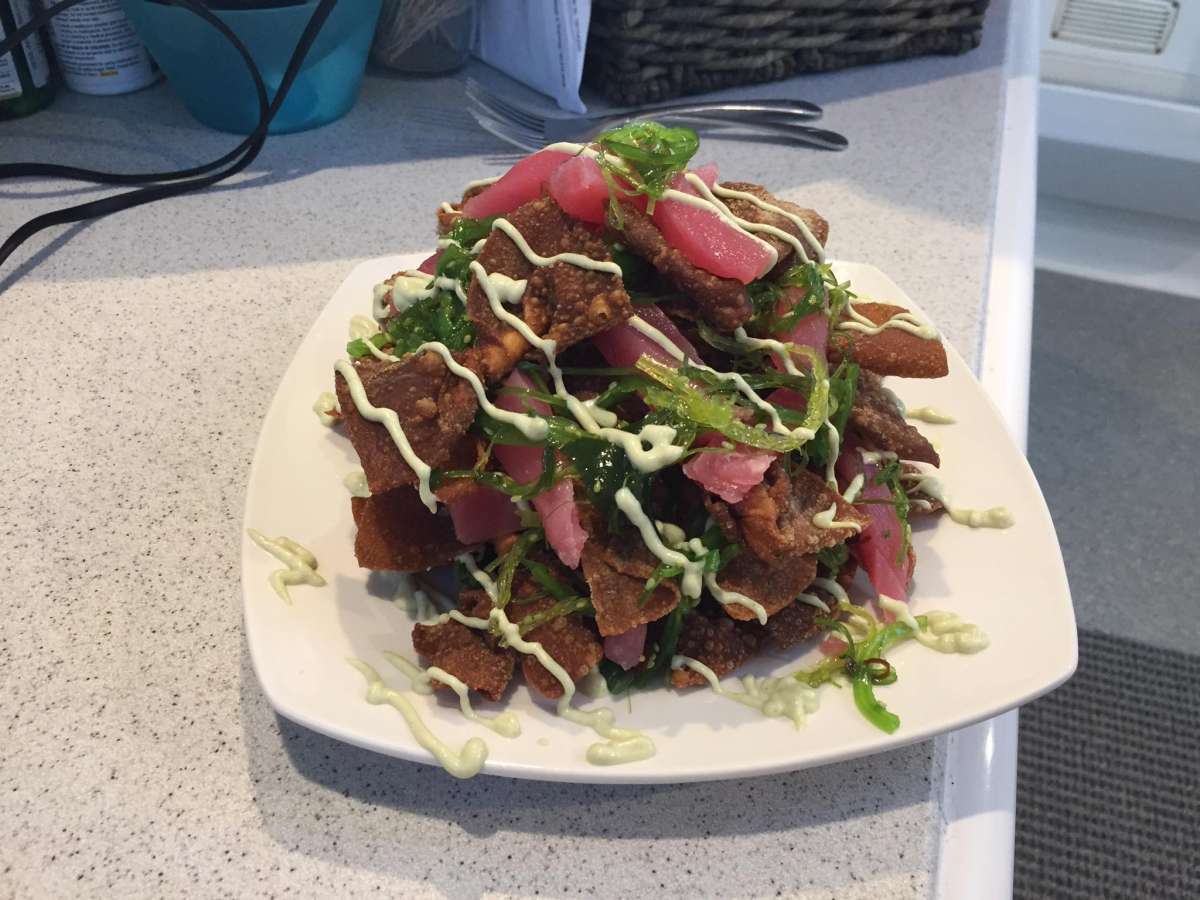 What are the average daily sailing hours?
This is dependent on the weather and destinations requested by the clients. We are happy to sail from St Thomas to St Croix for 6-7 hours, or take a day to get to Anegada and another down to Culebra. However, we are also into going to one spot and really making the most of being in the present and enjoying the place to the fullest – kicking back and unwinding, which takes about zero hours of sailing a day.
The typical run through the Virgin Islands would have us sailing a few hours a day. Oftentimes guests think they want the trip to be all about the destinations and that Black Tortuga will be just a vessel. What usually happens is they fall in love with sailing and being able to call Black Tortuga ´home´ for the week. Many times, by the end of the week, clients do not even want to go to another famous beach bar because they know the best and most comfy bar is right here on BT with good friends. The point is, each voyage is custom and unique, sailing hours are completely dependent on client request, and probably the weather most importantly!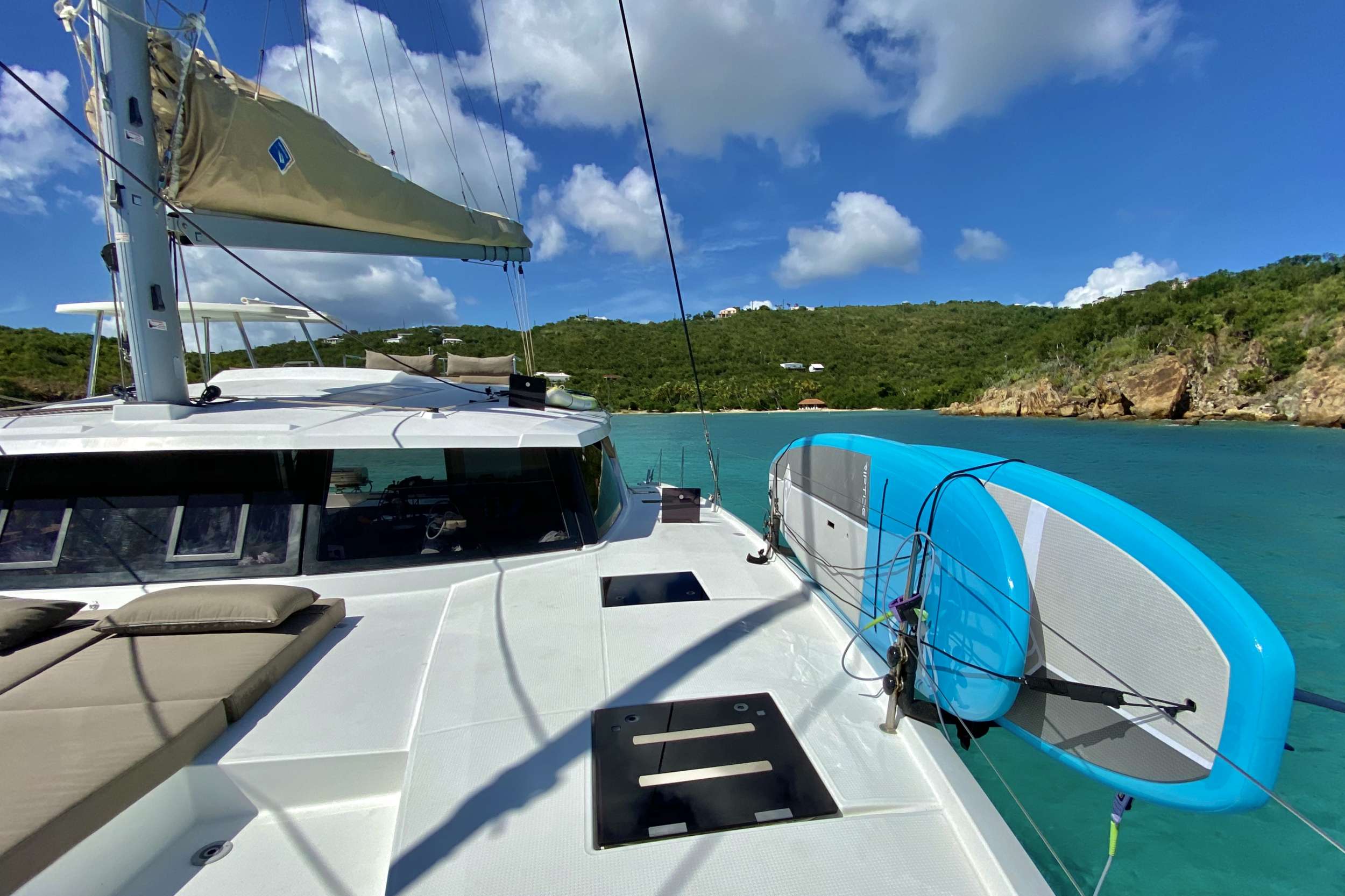 Any recommendations for what to wear on a boat?
The most comfortable item in your wardrobe is the most important article of clothing is the most important thing you can bring, as long as it's cool and airy. Lounge wear baby! That and reef-safe sunscreen or sun protective clothing. Though no need to pack sun shirts, we have Black Tortuga ones onboard!
What's special or unique about Black Tortuga?
Of course, we are the most special and unique elements of our boat according to our moms! But, next up is our lifting swim platform which allows amazing access to the water or even during parties, it adds an entire extra level to the boat, our fifth deck! As we've mentioned, we are divers and we have a compressor onboard allowing us to dive wherever we want and however much we want!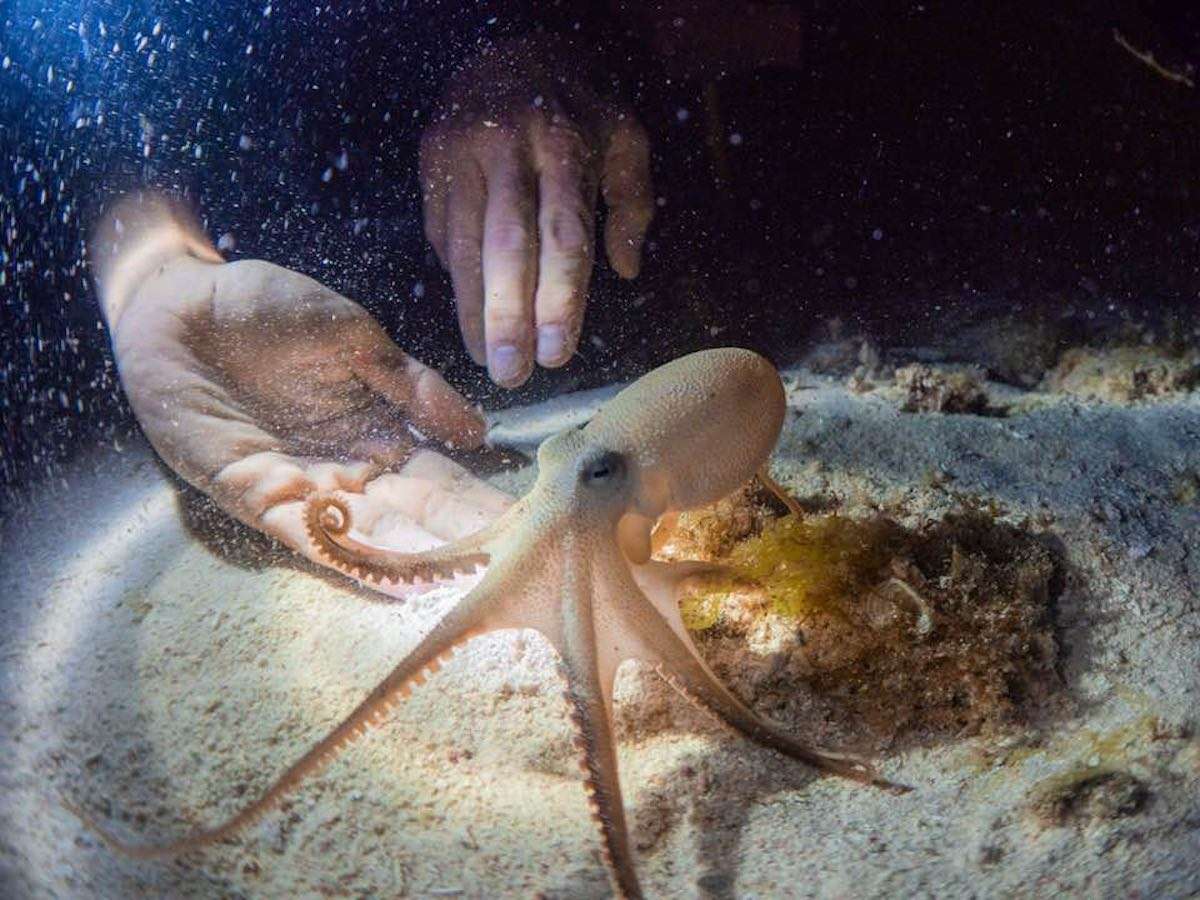 Experiences For All
What should the client expect to experience?
Clients´ experiences are, of course, based on what their desires are and how well they voice them. We start discussions long before the trip about what they want to get out of their trip and what's important for them to experience. The most important element in the equation here is communication. If we don't know what you want, we will just go to our version of paradise which is away from the crowds in crystal clear waters where the fish friends are putting on a show and coconuts are bursting from the trees onshore.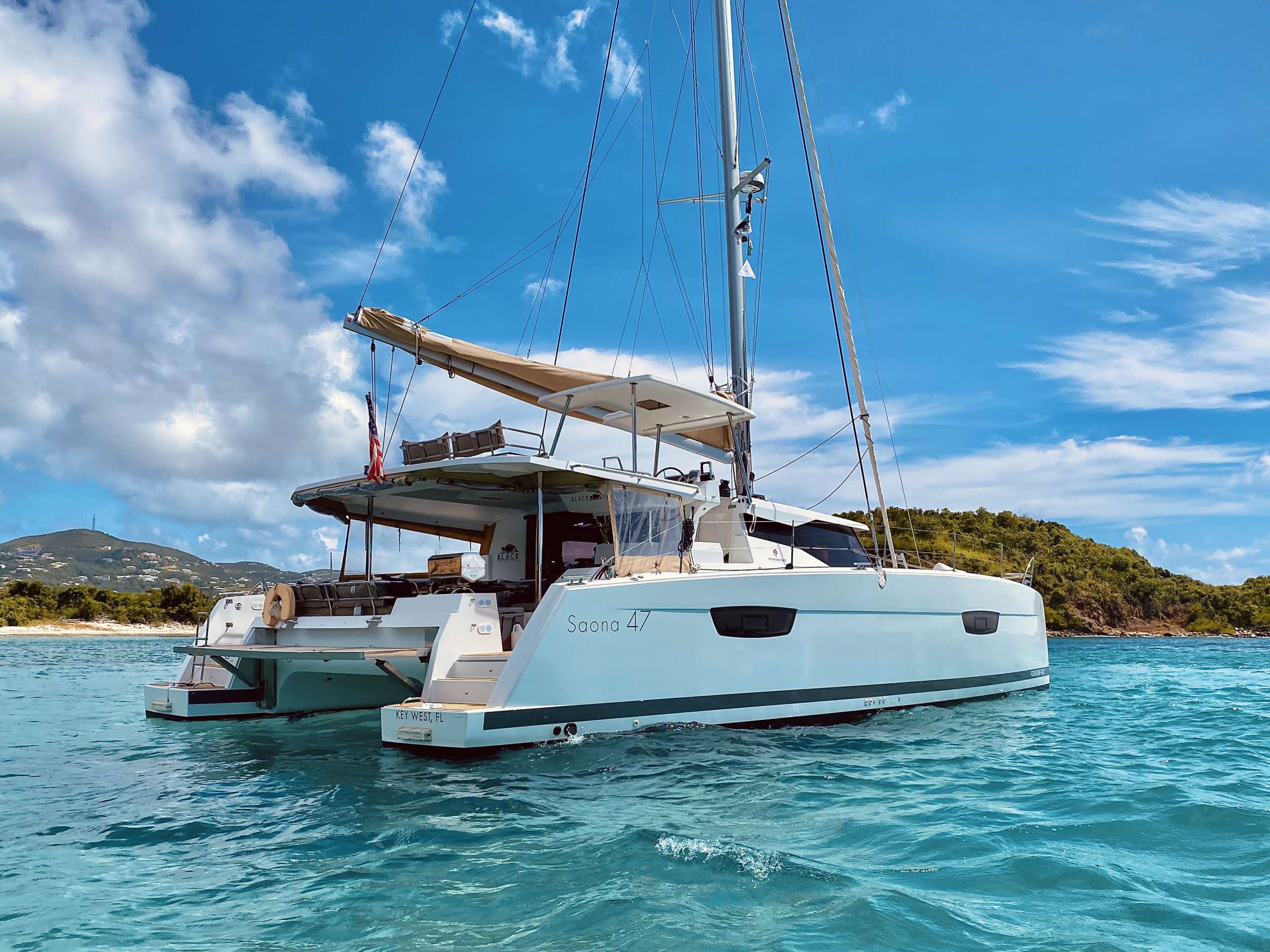 What are the most demanded activities for clients?
The most demanding activity for clients is climbing back onto the boat after a day at Soggy Dollar Bar, which is the most demanded activity from guests! Not to worry though, we have a lifting swim platform to raise anyone unfit to climb back onto the boat.
Do you have special recommendations for sunset, or unknown places that you like to go to surprise the clients?
That wouldn't be much of a surprise now would it! We actually really love sunset sails in the northern reaches of Pilsbury Sound and into Francis Bay, with calm seas and iconic views of the islands popping off into craggy silhouettes. They can easily turn into starlit or moonlit sails with a safe mooring at the end on St John. In terms of secret spots for surprises, as divers and snorkel enthusiasts – our secret spots tend to be underwater and we will keep them secret, but they are typically filled with fish friends and impressive rock structures.
What can a client learn on a trip?
Well that's a big one… Captain Brian was a naturalist with National Geographic Expeditions so he can talk your ear off about oceanography, geography, biology, climatology, geology, and even a little cosmology! Chef Elena is a world traveler, fluent in four languages and learning many more. She is making great strides towards living ´zero waste´ and has many life cheats to share, which can help clients live more responsibly and appreciatively, especially after they see the ecosystems which we want to save. Being a SCUBA instructor, clients can also learn to dive with her. You see, there is ample opportunity to learn, it's all really about what the clients would like to learn. We present a lot, they take what they will.
Do you have anything special for children, celebrations, anniversaries etc.?
Children are easy, give them a snorkel and push them in the water. Brian is a kid at heart and can participate in all sorts of activities with them. We also have a game basket. Elena loves making cakes, all sorts of healthy tasty cakes. Elena is our magic weapon for anniversaries and celebrations, creating jaw-dropping dishes which enhances the love. As well, Brian is an ordained minister. Thinking about renewing your vows?! It doesn't hurt that we are floating through paradise.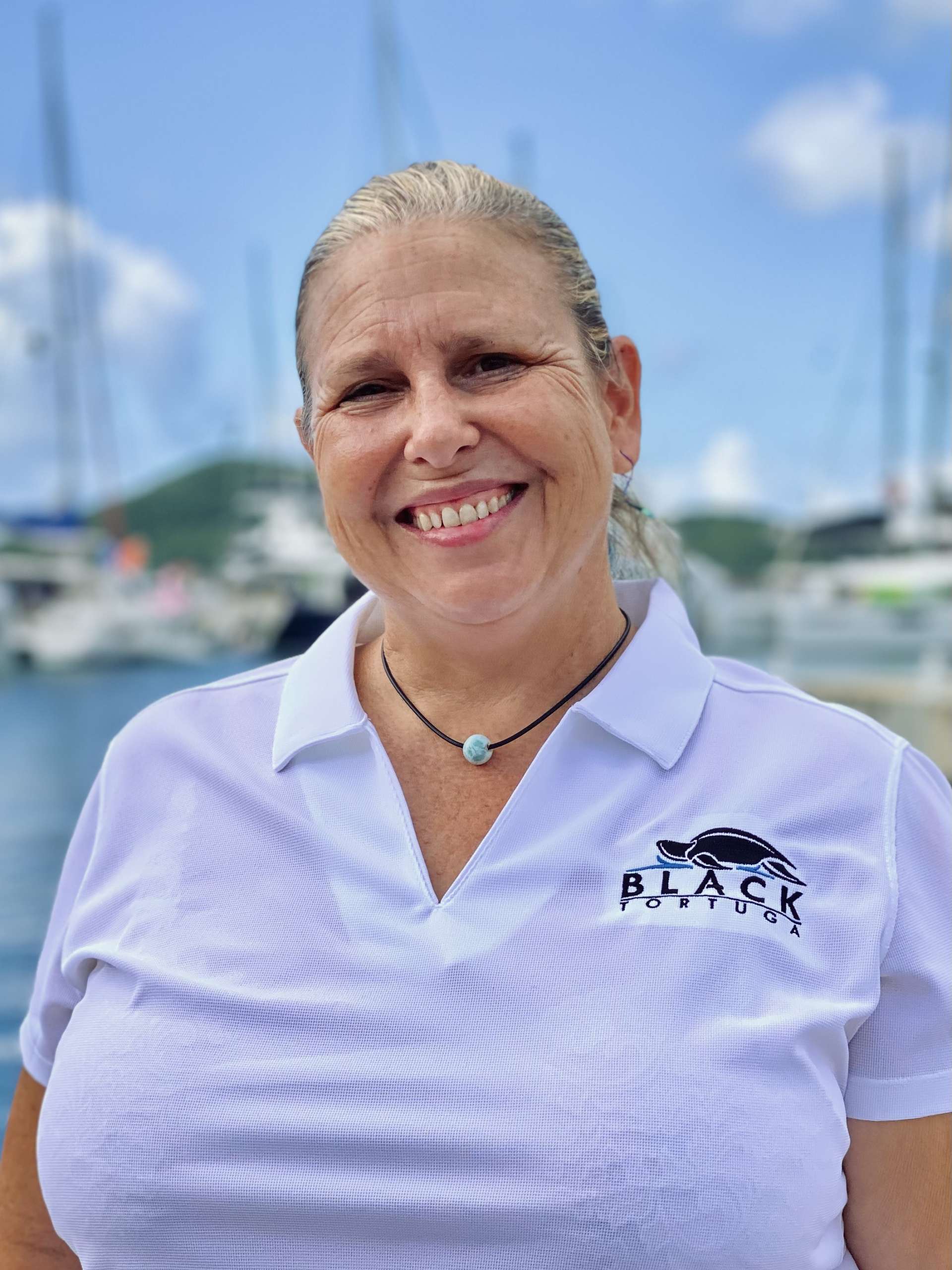 Which are your favorite kind of clients/groups?
Divers that tip well. Divers don't typically tip well, but we love groups that are here to appreciate the beauty of our world and who are open to any fun, new activities!
How´s the nightlife – on the boat, or on shore?
We cater to whatever. We've got a sound system, blue lights and drinks. We prefer having people stay onboard for parties, so we don't have to do drunken dingy rides. However, some must-dos are Foxys or Corsairs on Jost Van Dyke. On Anegada, after dinner at Potters or Sids. On Virgin Gorda – Leverick, Nova or CocoMaya. There are plenty of night activities!
Do you have any interesting or funny stories or anecdotes about a previous trip?
What happens on Black Tortuga, stays on Black Tortuga. But if you ever take our Rescue Diver course and perform your search and recovery drill on our blow-up doll ´BVI Judy´ you can know that we adopted her from past guests who needed a companion for their ´fifth wheel´… and any other ensuing related stories!
Sea sickness – issue or non-issue? How common is it for people with no sailing experience to get ill, and what do you do to combat it?
We give points for distance and color when it comes to puking overboard, which makes it a non-issue because it is not on the boat! An old captain told me that a full barrel sloshes less than a half empty one, so Elena always bakes plenty of bread before any passages. As well, we are on a catamaran, no one gets sick on these glorified pontoon boats!
About The British Virgin Islands
Any good stories regarding the area?
Tons! The BVI was used by the pirates for all of its great hidey-holes and lookout points. There are even a few spots where you might just stumble across some treasure…
What are your favorite BVI traditions and food?
We love when people get wet, which is why we make sure people swim to Soggy Dollar and never ever get out of jumping off Willy Ts! BVI classical food is found in Anegada. The people live rustic and eat lavish lobster dinners.
Any historical spots in Virgin Islands?
The beautifully coral encrusted wreck of the Rhône is a constant reminder of the force of Mother Nature, not only the destructive force to send a formidable ship to bed, but in her ability to reclaim. We also love Little Dix. Arguably not only the start of tourism in the Virgin Islands, but Little Dix resort in Little Dix Bay could be called the start of ´ecotourism´, through Rockefeller's ingenious planning and love for natural spaces.
Local people – what do they do, how are they?
Most of the local population is infected by the kiss of the sun and truly live on ´island time´! Our main interactions with locals will be through their support of our voyage and activities. Kevin and Gee come around with ice and pick up trash. Aragorn might show us around his studio, Foxy could play for us on his guitar, Potter will welcome us to Anegada with a song, Tommy Gaunt will giggle in support as he helps you in a kiteboard lesson. There are all sorts of things that might happen when we meet these people, then again, we may not even meet them, they are all living in Island Time!
Which animals can we expect to see?
Turtles, black ones! Probably mainly green and hawksbills. Boobies, lots of brown boobies, a pelagic seabird that when walking on land looks like a clown. Bobo is Spanish for clown and the Spanish named them. Frigatebirds, Red-billed tropicbirds, laughing gulls, pigeons, nurse sharks (in case you get hurt while snorkeling). Friendly octopus, botox lip trunkfish, wide-eyed pufferfish, voracious rainbow runners, horny wrasse, arrow crabs, spotted drums, trumpetfish, massive tarpon. Barry the barracuda and company, rare dolphins, turtles, turtles, turtles, etc… Most of the wildlife we see is underwater, but occasionally the wildest animals we see will be flying Chiefs flags and comparing BVI to Lake of the Ozarks.
How does the weather differ between seasons?
In Winter, bring your bikini. Spring, bring your bikini. Summer, bring your bikini. Fall, bring your bikini. On a more serious note, bring your bikini. Year round, the Virgin Islands are a vacation paradise. Starting in late December, we get some very strong tradewinds we endearingly call Christmas winds. Summer is known for its flat calm, hot days, except for when hurricanes come through… We can always expect small squalls to blow through bringing a bit of rain and rainbow to most every day.
How is the sea to sail?
This is the sailing capital of the world for a reason. Sailing is never less than thrilling and always a great time.
What are your favorite places to take the clients – bars restaurants or nature?
Are we copping out by saying White Bay, Jost Van Dyke? Everyone loves Soggy Dollar Bar and has a great time on the beach. The beach itself is perfect with its white, sugary sand and the bay is gorgeous with nice calm, crystal clear, fish and turtle filled waters.
Nova up in Deep Bay, part of the Oil Nut properties on Virgin Gorda, has so many great activities with an absolutely epic backdrop to the marina – it's a totally different experience to anything else you find in the BVI. You can't talk about great experiences and not talk about Michael Beans pirate show. And then, just outside of everyone's rhumb line, are Dog Islands – great for nature.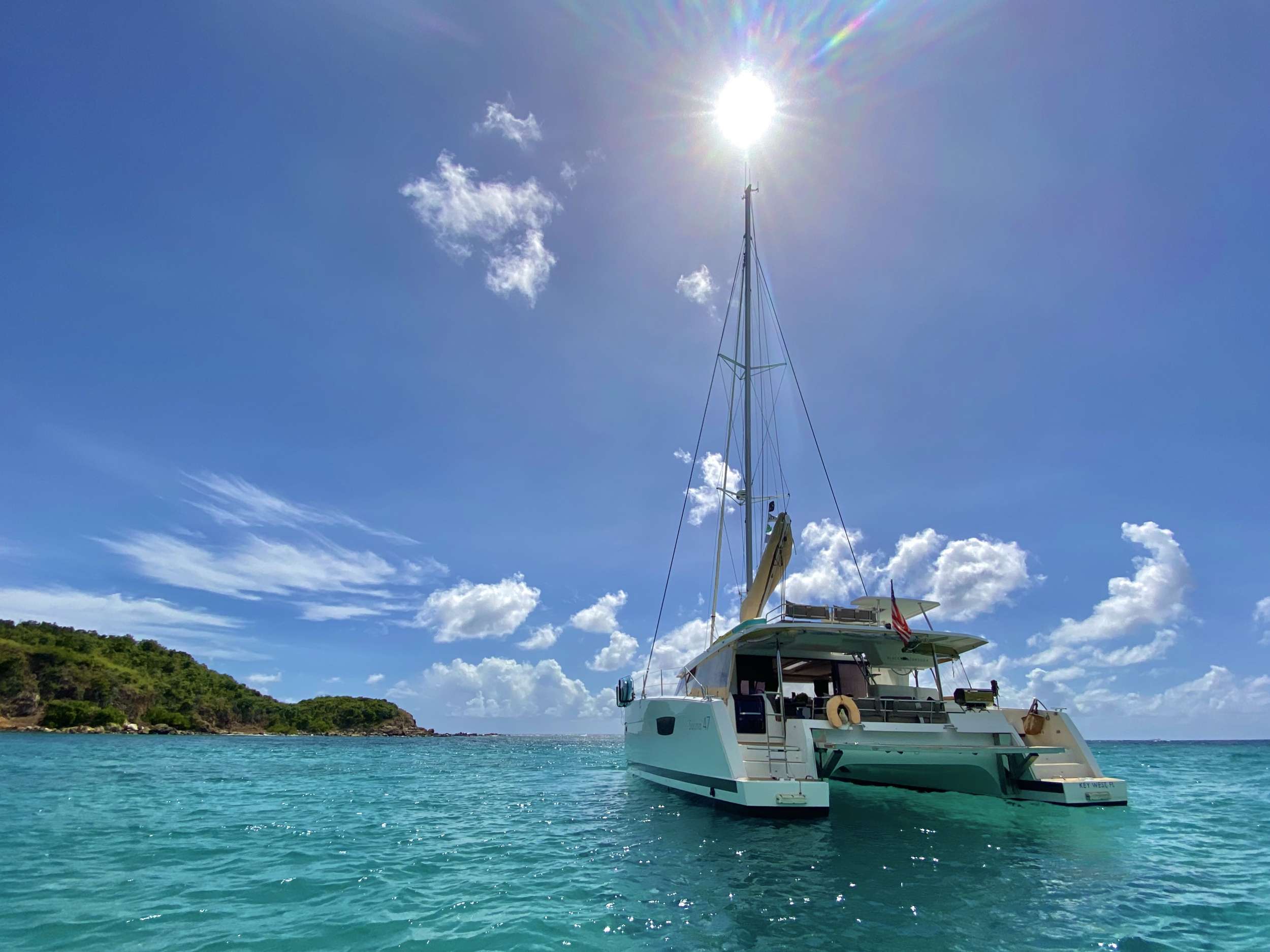 What´s your favorite bar/restaurant/beach/snorkel spot/dive site?!
It´s very difficult to find a slashie spot like this with so many different activities in one place. Most definitely, the old Willy T is a great dive site, but it doesn't have much of a beach associated with it. For all around great activities, with offerings for everyone, The Bite on Norman has got it all! Beach, restaurant, snorkeling, bar out in the bay, diving by the Indians, night diving at Kelly Cove. We are always happy to be moored at Norman!
What´s your favorite hour in the day for sailing?
Sunset sail for cocktail hour, it doesn't really get any better than that. Though for a captain it's kind of worrisome because now we have to find a place to sleep for the night in the dark! Not really though, there are plenty of National Park moorings all around Pillsbury Sound so we get to wake up next to the best beaches in the Virgin Islands.
What´s the expected budget in ´other expenses´ for clients?
Land expenses vary wildly. Some people aren't ready for such assuming bills from such unassuming beach bars! Then there are souvenirs to buy at many of the hot spots such as Soggy Dollar and Leverick. Then some groups come on a half board option, which means they will be dining on shore much more. Guaranteed expenses are transportation costs from the airport. The average rate is $14/person each way. On Anegada, you will need transportation to get to the beaches on the north side, which could be as tame as a shuttle van or wild as dirt bikes. A very average number would be $45 per person per day.
If you were recommending a destination for a trip outside of the BVI, where would you recommend and why?
The USVI! Diving, surfing, sailing, solitude, wildlife await. The lack of fresh water is replaced by magic. Then, of course, we'll sail you across the Pacific Islands, hopping to the paradise of Komodo National Park in Indonesia. This is a very difficult question without knowing you. As soon as you come and spend a week with us, I'll tell you exactly where to go in the world!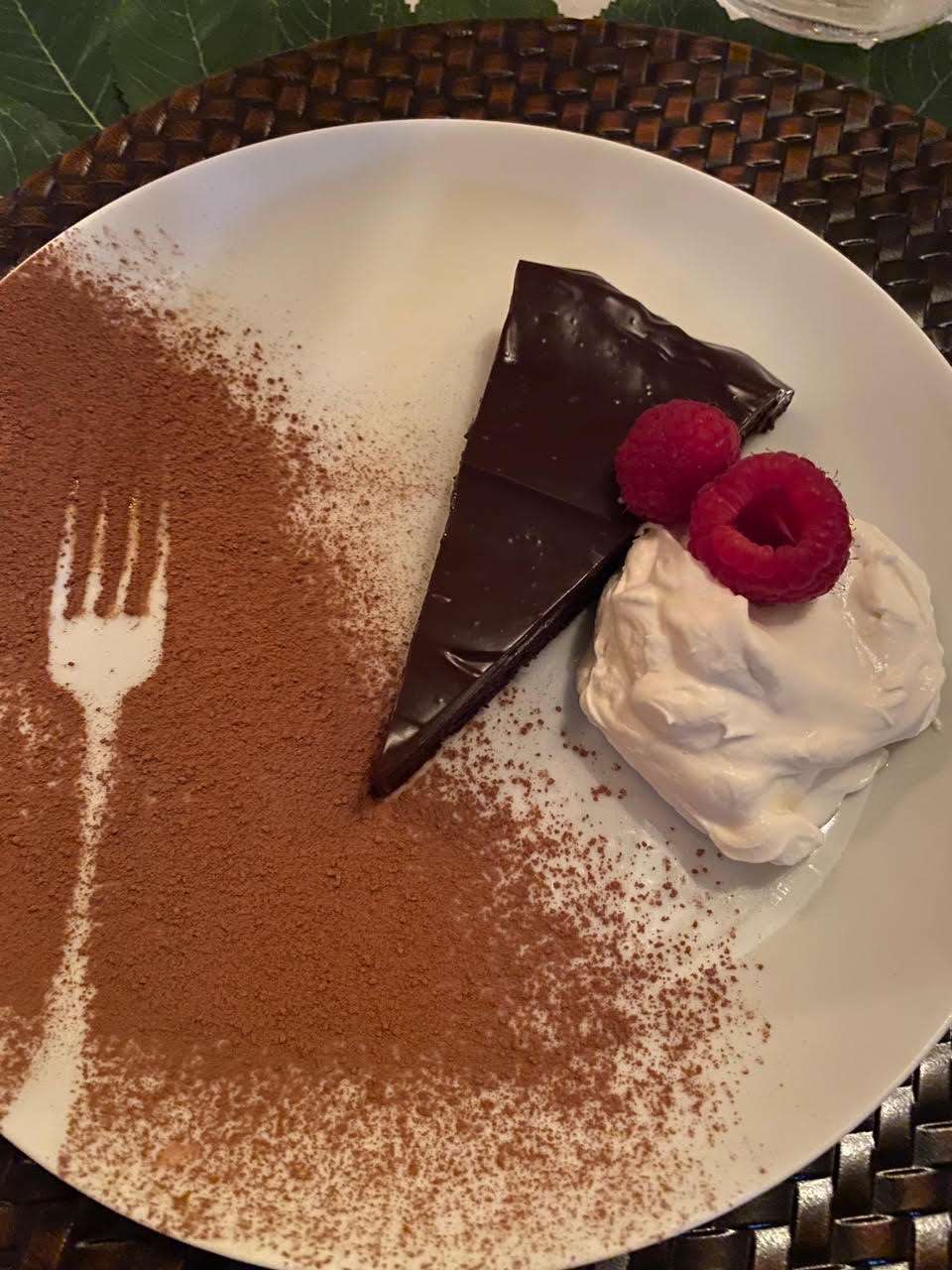 What does a typical day look like in the BVI?
It will look exactly like how the clients imagine paradise! We shape our itineraries to fit ideal vacations. If you have no opinion about ideal vacations or want to rely on the expertise of professional vacationers, folks can just do what we normally do. Wake up around 0600, stretch, put on coffee, swim/snorkel or Elena takes Brian tubing, eat breakfast, check the weather and figure out where the best activity for the day will be and what it is.
Sail to a new spot and participate in activities such as diving, kiteboarding, surfing, swimming, hiking, beaching, etc. Lunch happens at some point in there, Elena will usually force food on us throughout the day.
Then sundowner activities followed by dinner then do it all again the next day.
Make sure to checkout the full details & photos of Crewed Catamaran Black Tortuga, and if you'd like to enquire about a reservation, just leave us your details below.