Welcome to Makin' Memories. An interview with the Crew of Sail Catamaran Makin' Memories
Makin' Memories is a beautiful Lagoon 450 sailing catamaran, currently based in the Caribbean, for tours of the US & British Virgin Islands. Along with the 2 crew members, she sleeps 6 Guests in 3 spacious cabins. Amongst the crews many skills, Captain Keith is an experienced Diver to help you explore the world under the sea. Make sure you see the full details of Sail Catamaran Makin Memories.
Where do you welcome the clients?
We are very flexible with where we pick up our guests, however generally welcome them aboard in Yacht Haven Grande, Charlotte Amalie, St Thomas for their convenience of flying into a US territory. However, we have also picked up guests in locations such as Scrub Island in the BVIs, for those who wish to pair their water vacation with some time on land in a luxury eco resort.
Are the boats in the marina, or at a mooring when the clients arrive?
Makin' Memories will be in the marina when guests arrive, with some delicious hand prepared snacks or lunch and a refreshing cocktail waiting for them!
What's the check-in process, and how long does it usually take?
Just like every aspect of the vacations we provide, the check-in process is very relaxed, if you could even call it that! We meet guests out the front of the marina, before assisting them with their luggage and leading them to Makin' Memories. After settling them into their rooms and providing drinks and snacks, Captain Keith and Chef Ellie will give a safety briefing for about 20 minutes, answering any queries guests may have and calming any nerves for greenhorn sailors!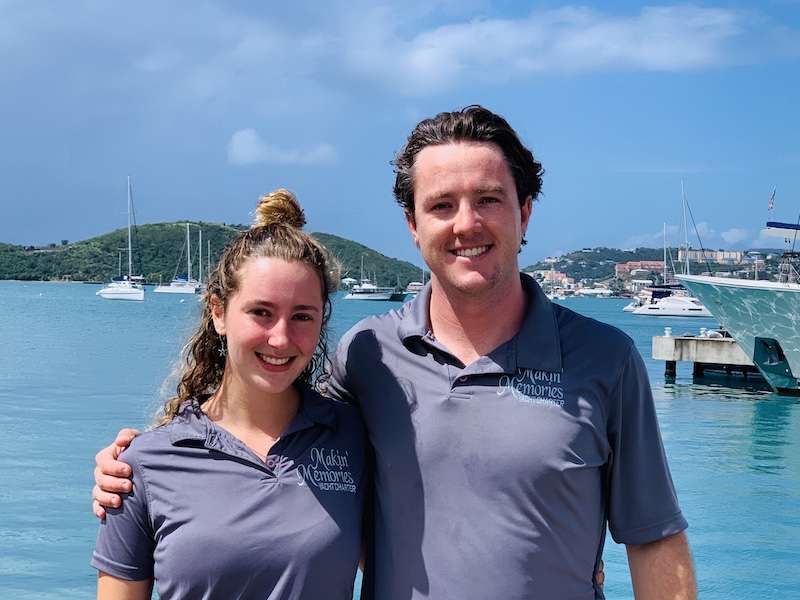 Is there anything especially important for clients to take in account at check-in?
Don't be afraid to let us know your expectations and wishes for your vacation! We are willing to do everything possible to make sure it goes beyond what you hoped, and are able to tailor it to be a non stop adventure, a leisurely float, or most commonly, a mix of both.
Any recommendations of what is important to wear for a boat?
Whatever you feel comfortable in! Saying that, swimsuits and light, loose-fitting clothing is definitely what we would recommend! Never forget a good hat and pair of sunglasses, and reef safe sunscreen!
Do you have a favourite, or special menu you like to cook?
Chef Ellie 'El Salty Chef', loves to cook refreshing and healthy meals, using lots of local Carribean flavours and produce! She especially enjoys baking desserts and other swee treats, and guests will find themselves waking up every morning to the smell of goods such as freshly baked muffins or cookies.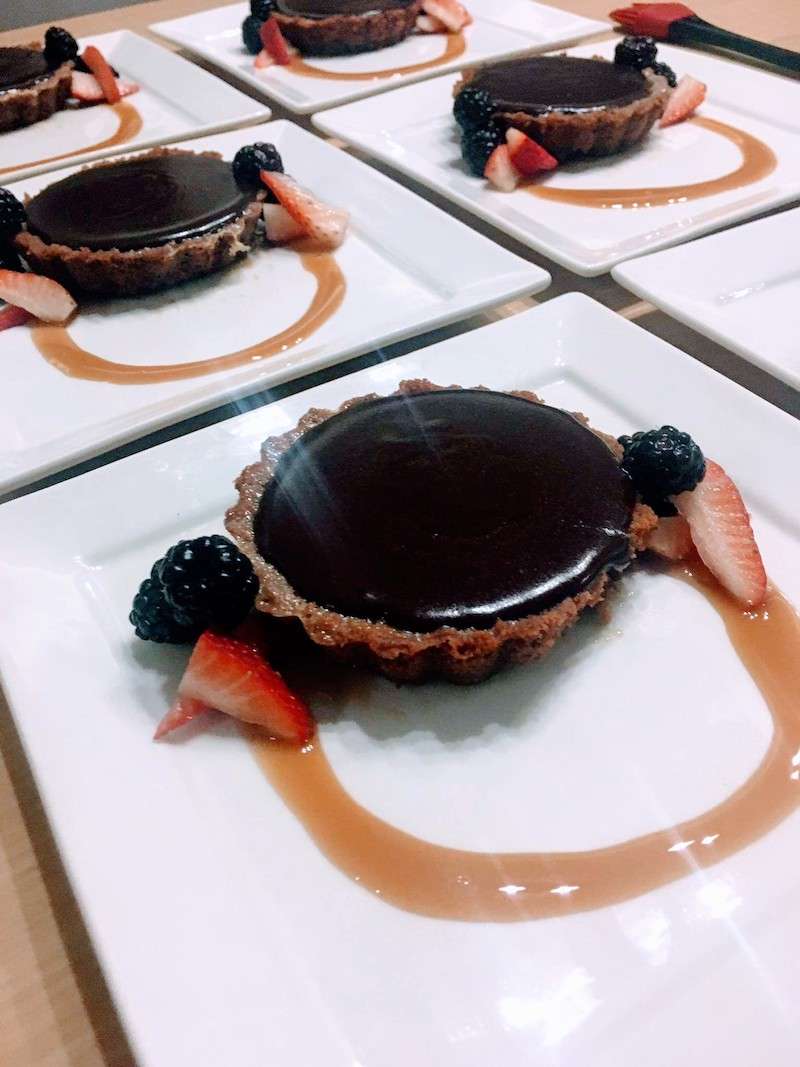 Fresh food: fishing, delivery to the boat?
Captain Keith 'El Capitan', is a keen freediver and loves hunting for fresh, juicy lobster for our guests who request so! We also have multiple rods for those who wish to try their hand at fishing, and we are more than happy to prepare anything caught that is edible. Otherwise, Ellie procures fresh, local produce from island markets where possible.
Do you have Special recommendations for sunset or unknown places that you like to go to to surprise clients?
There is a bay that I cannot tell you the name of, as it is a hidden gem that only those who know how to safely enter can anchor there. In the prevailing easterlies you can anchor the boat stern to the shore, and the sun will set in a low valley, perfectly nestled between two hills. Our guests have watched the sun set and the moon rise on a single night in that bay. And the best part? We were the only yacht there because when it comes down to a great sailing holiday it has nothing to do with who you know, it's all about what the crew knows that others don't.
What are the most demanded activities for clients?
Honestly many different things! We welcome guests from all backgrounds of life, who have completely different ideas of their dream activities. However, some common favourites are going for a sunset paddleboard on the lake-like waters, going snorkelling and seeing a plethora of coral and sea creatures, or dinghing into land and tasting local rums and beers.
What should the client expect and what shouldn't they expect, both on the boat, and generally on the trip?
Guests should expect the unexpected! As much as we can all plan the vacation, it is important to remain flexible with activities and destinations that guests have in mind! As much as we'd all love to be King Neptune, we can't control the weather, nor many other aspects of island life! Guests will soon see the laid back nature of locals, and will find themselves revelling in this lifestyle!
What are the Average sailing hours daily?
Captain Keith loves every opportunity to get the sails up, and is happy to do as much or as little sailing as guests would like. Generally, we move location 3-4 times per day, and so we will be sailing/motor sailing for no more than 4-6 hours total a day. This completely depends however on the tailored itinerary that we go through with guests.
Do you organize Pick up & drop off from boat?
We are always happy to help with any logistics guests may need assistance with – whether that be taxi pick ups and drop offs, hotel recommendations or restaurant suggestions – we know the best of them all! So yes, we are more than happy to organise pick up and drop off from the boat.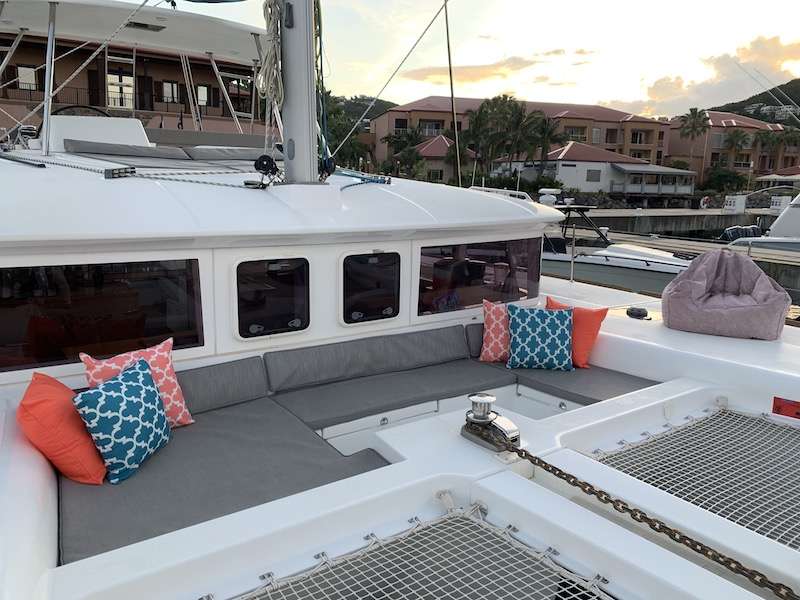 What can a client learn in a trip?
Many things! Keith is a fantastic teacher and can frequently be seen drawing diagrams or pointing out landmarks to guests eager to learn his sailor ways! A hearty "ready about! heave ho!" can be heard from miles as the crew onboard Makin' Memories hoist the sails! Besides sailing knowledge, Keith and Ellie have a great deal of knowledge on local legends and historical information which they are more than happy to share! Ellie
also loves sharing her cooking skills, and knows how to keep children entertained for hours as they participate in cooking together.
What should the client expect to experience?
A vacation entirely personally tailored to their expectations! We are always willing to go the extra mile to ensure that guests have the best time, and will do everything within our power to accommodate any special requests!
Do you have anything special for children, celebrations, anniversaries etc?
We have it all! Makin' Memories is perfect for families with children as we have safety lines that secure around the whole boat for added security, we have plenty of board games, water toys and other fun activities, and our best feature is a team with unwavering energy! As for celebrations and anniversaries, we have plenty of party goods on board. Ellie is a self-proclaimed party planning extraordinaire, and loves nothing more than organising and executing special celebrations! Over New Years in 2019-2020, she spent over 4 hours cutting up paper stars and other decorations for the big day!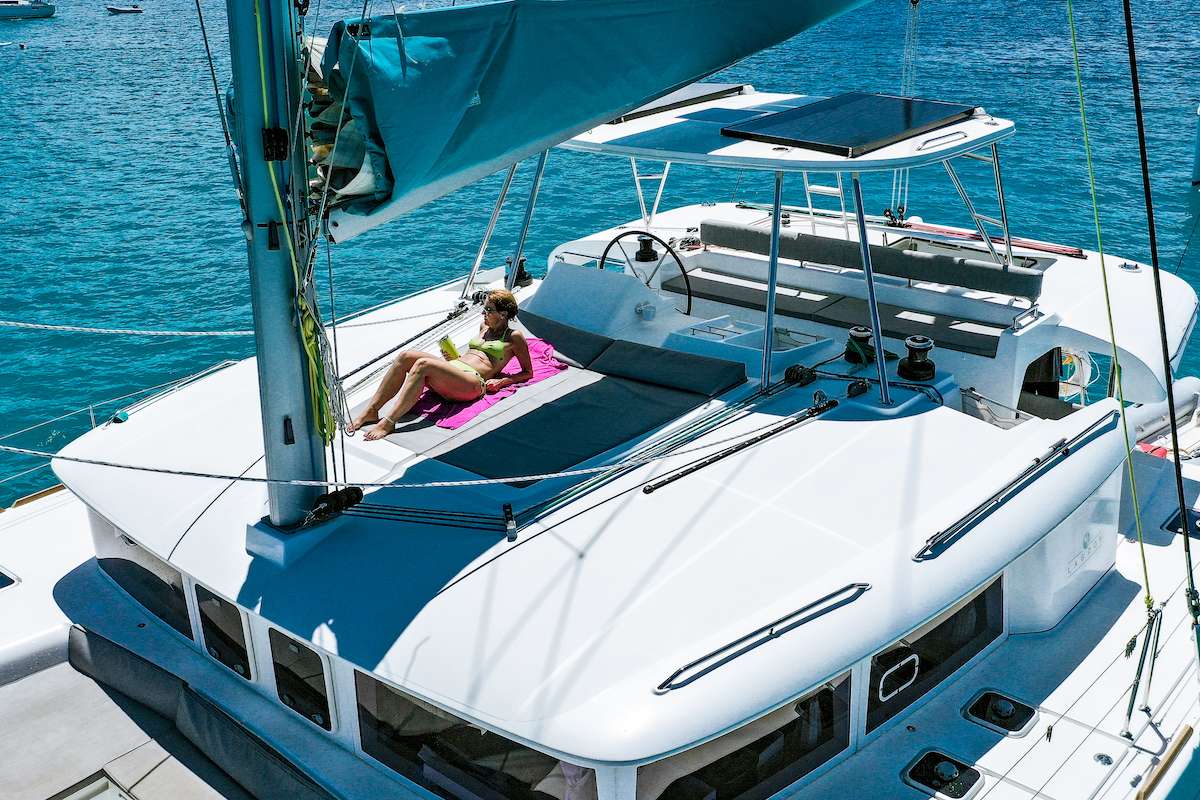 Which are your favorite kind of clients/groups?
We love anyone and everyone! That's why we love our job so much – because we get to meet so many different people with different backgrounds, and hear their stories of adventure from all over the globe.
Night life? Either on the boat, or on shore?
We normally recommend guests experience a bit of both in order to have the best time possible! We have six 200W surround sound Fusion bluetooth speakers for guests to connect to that works both inside and outside, and we always have a well stocked bar and snacks supply – not to mention Captain Keith's specialty Cocktails! We have the best recommendations for night life on shore, whether that be an eloquent evening meal, or a night partying with the locals in a Carribean rum bar!
What's special/unique about your boat?
Makin' Memories has a plethora of new fishing gear, including three rods! Alongside this, Captain Keith frequently takes guests out to go lobstering to catch an evening meal. We also have an expansive flybridge which gives 360 degree views and is covered from the sun. Have a go steering up at the helm here, or be served some delicious cocktails and snacks on the upper lounge.
Do you have any interesting or funny stories or anecdotes about a previous trip?
We had a guest mistake her husband for a dolphin once! That was hilarious… but there are honestly too many little gems to even talk about. We could sit here all day, but it would be easier to just come on board and read our guest book!
Sea sickness. Issue or no issue? How common is it for people with no sailing experience to get ill, and what do you do to combat it?
Honestly it's not as common as people think! We won't say that it doesn't occur, however generally guests get over it after the first sail! To combat it, we think that prevention is key! Taking sea sickness tablets before you get onboard/before you get up for the morning is one way. If guests feel themselves feeling queasy underway, Keith gets them and him to swap roles for a bit and they drive the boat whilst keeping their eye on the horizon! It genuinely helps… or is Captain Keith just looking for an excuse to rest his eyes?!!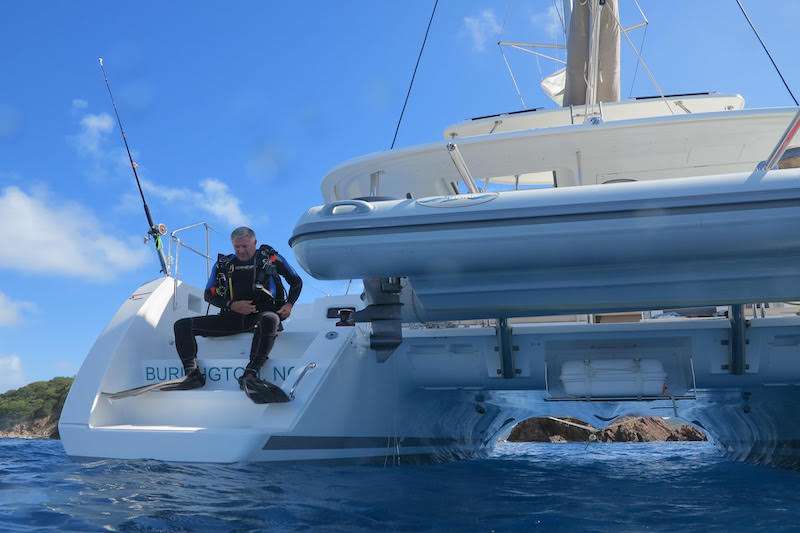 Any good stories regarding the area?
The BVIs have a long list of pirate legacies, including that of the infamous Blackbeard! Norman Island is said to be the home of his lost treasure, and nearby island Little Thatch and Great Thatch are said to have been where Blackbeard left many of his men for dead. The adjacent Peter Island has a bay called "Dead Man's Bay" due to the men that tried to swim there (yet drowned on the way) in order to escape. For many more old pirate tales, guests will have to hear them from us onboard Makin' Memories!
Favorite BVI Traditions and food?
The Salt Island Royal Exchange is a pretty unusual and interesting one! It is where the owners of the island give delegates of the Royal English Crown a bag of salt as a sign of their fealty. Another good one is at Trellis Bay, there are monthly full moon parties which are a BVI tradition and an absolute sight to behold, as local fire dancers, acrobats and bands put on an epic display to celebrate the vibrant moon, that is said to bring out the wild side of people!
Any historical spots in BVI?
Once again, this is another question that in order to get the best answer, potential clients will just need to come and see for themselves! As an indicator though, there are many hikes to retired sugar mills and forts, shipwrecks to snorkel or scuba dive, and distilleries and museums to visit.
Local people; what do they do, how are they…
Undoubtedly one of our favourite parts of the islands… the locals! From the marina employees to restaurant owners, the friendliness of everyone is unwavering! We dance with them, we laugh with them, we support them, and they help us! Visit the BVIs and you'll leave with not only your crew as newfound friends, but many of the locals too!
Flights, any recommendations? Arrive same day, or hotel the night before?
We would recommend that guests stay on island the night before boarding Makin' Memories. This allows them time to do some souvenir shopping in the Havensite mall, or to grab last minute items they may have forgotten. There are also many great restaurants and bars around that are definitely worth experiencing!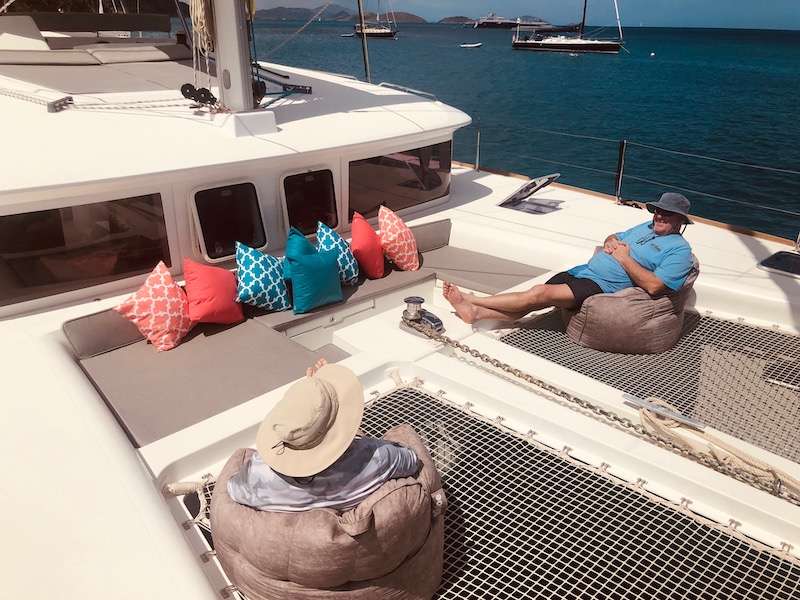 What animals should Guests Expect to see
A well kept secret of the BVIs is Necker Island (Sir Richard Branson's Island), and the chance to visit its local inhabitants of giant ancient tortoises and limas! Few crews know this, yet lucky for guests of Makin' Memories, Keith and Ellie do! Be sure to tell us of your intention to visit this island early, as the places are highly coveted and have to be booked well in advance. As for other wildlife, red-footed tortoises and plenty of iguanas
can be found, as can hermit crabs and many different species of birds. In terms of aquatic life, there are over hundreds of colourful, neon species of fish that can be seen. Dive a little deeper and you'll find lobsters, including the rare Slipper Lobster, along with elegant eagle spotted rays and Southern Stingrays. We also frequently spot sharks (don't worry – they aren't out to hurt you!), and have been escorted by dolphins during our sailing passages! In the later winter months, majestic Humpback whales can also be spotted migrating, breaching the surface and putting on a show for those sailing by in awe!
Expected weather, difference between seasons
The weather is always very warm and comfortable throughout the day, however it can be refreshingly cool at night during the winter months, so it is definitely worthwhile to bring a light jacket! During winter particularly, it also generally rains once a day, but this occurs overnight/early in the morning.
How is the sea to sail?
Beautiful! Imagine crystal clear water, the tranquil sounds of water splashing against the hull, and the smell of a fresh meal being cooked up! These are what most days at sea look like.
Minimum and maximum recommended days of trip.
We would recommend a minimum of 7 nights and up to 10 nights if you really want to fully experience the best of both the BVIs but also the extremely underrated USVIs.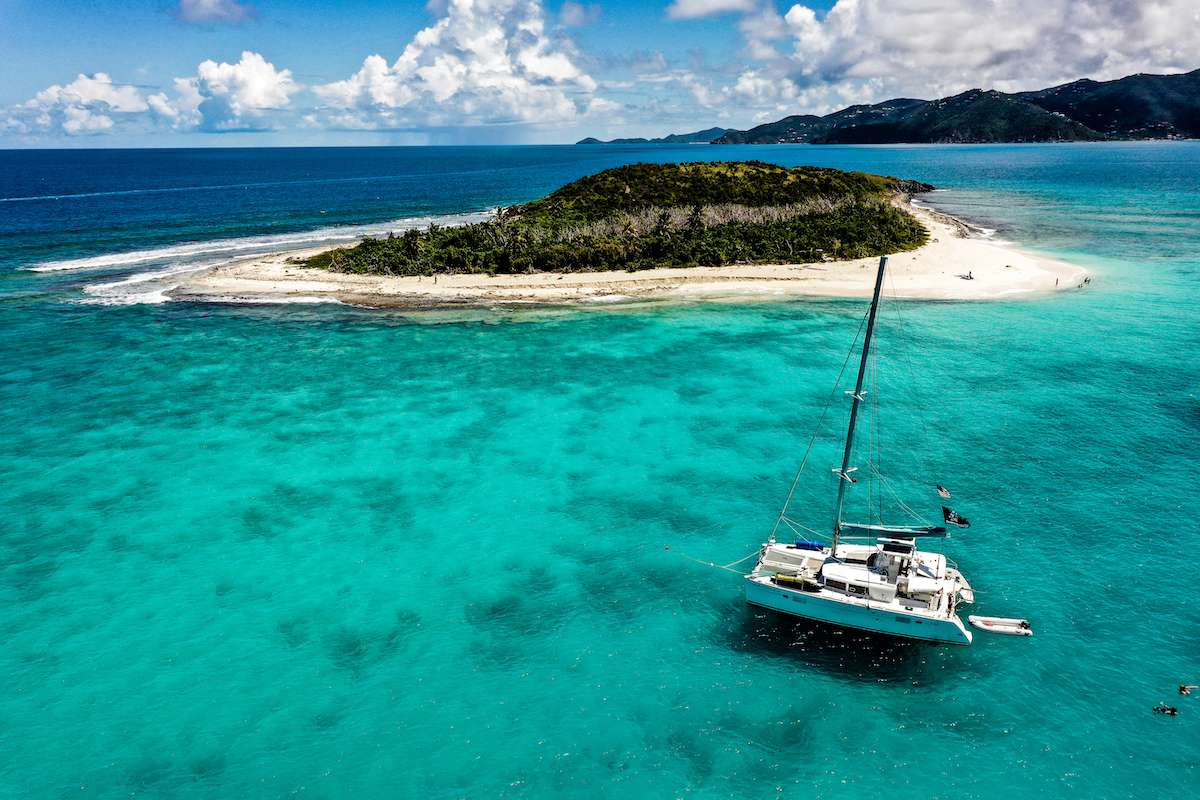 Favorite places to take the clients, bars restaurants or nature.
Where can we start with this question?! We tailor each vacation to as the guests request, whether that be vibrant bars or lowkey intimate restaurants. Saying that, some of our favourites would definitely have to be anchoring right out the front of Cocomaya on the beach for some of the best Asian delights and cocktails, or Longboards for some classic meals after a long day exploring St John!
Your favorite bar/restaurant/beach/snorkel spot/dive site
Once again, there are too many to count! For something that combines all of these factors, we really love Cooper Island Eco-Resort. This location has a fantastic bar and restaurant with a great happy hour, featuring local cocktails and beer from their own brewery! The setting is fantastic with comfortable beach side seating, and is in a perfect position to watch the sun dip below the horizon. It also has a rum bar that has over 280 different rums to try, and a beautiful boutique to purchase handmade Virgin Island products, or the latest swimwear from high-end brands! The bay we moor in is also right next to a fantastic snorkelling spot, where we always see plenty of fish, sharks and stingrays.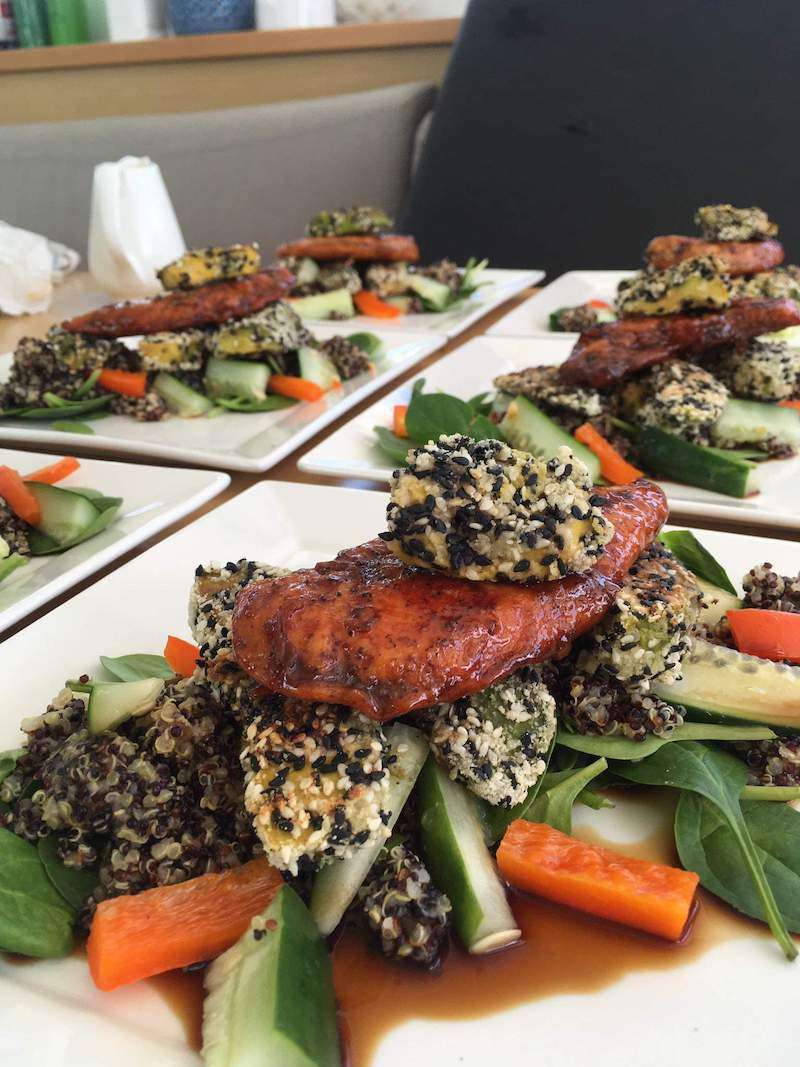 Favorite hour in the day for sailing?
Definitely sunset! Nothing beats a lovely cruise across the water into the sunset, accompanied by some handcrafted cocktails and a beautiful charcuterie board of course!
Expected budget in other expenses for clients.
This really depends on what guests' vacation expectations are. For those who just want to relax and enjoy the tranquility of a full board and rarely go ashore, your only expenses are what you want to spend on souvenirs and getting to and from the boat. We would recommend an extra $200 per person or so to be safe! For those who are looking to experience the nightlife, we would recommend factoring in an extra $500 per person, for drinks, snacks and souvenirs off the boat. But it is all about how big a bar tab the guests will rack up so this is a tough one to answer!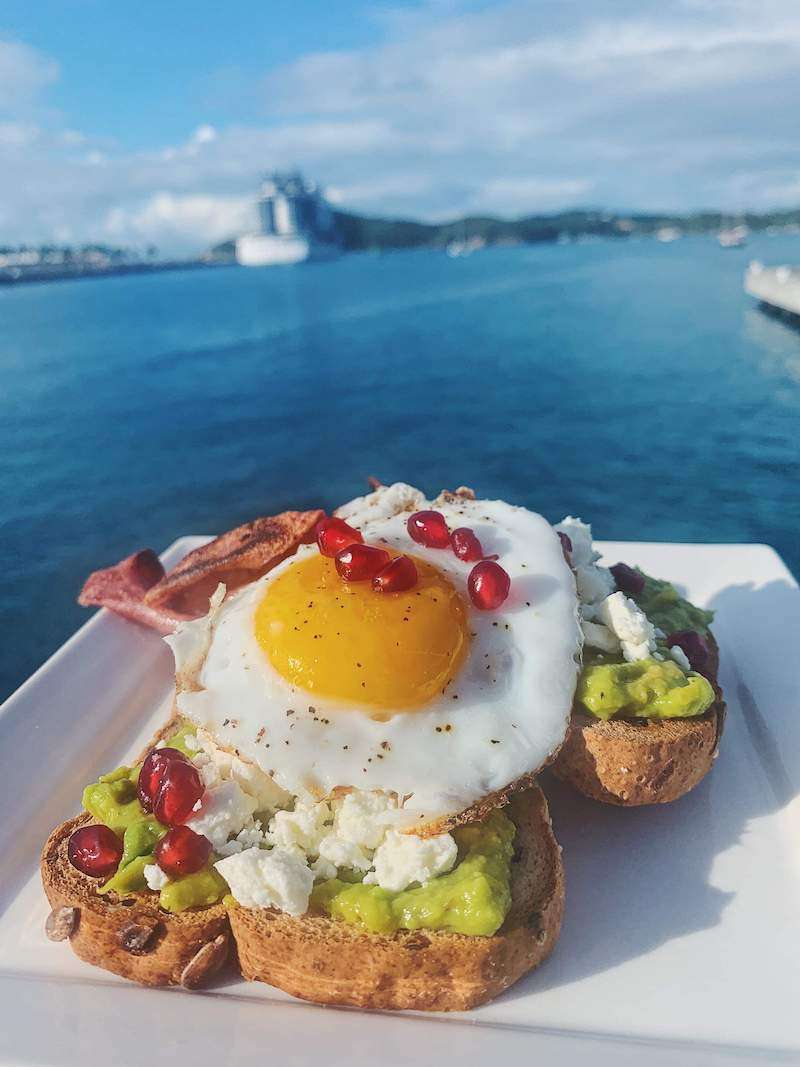 If you were recommending a destination for a trip outside of the BVI, where would you recommend and why?
The beautiful part about sailing around the world is that there is literally something for everyone. Do you want to hunt untouched surf breaks in the Pacific Islands? Search for pods of Orcas under the Northern Lights in the NorthWest passage; or maybe sail to the base of a ski resort in the Fjord's of Norway for a sail to ski experience. Cruise by castles on the flat, calm waters of Croatia, or perhaps for an international food medley you could have an English breakfast under the Rock of Gibraltar, tapas lunch on the
Andalusian coast of Spain, and then spend that night in Morocco for a late curry dinner. For the more adventurous take part in the ARC rally across the Atlantic, and literally leave Winter behind you as you land on one of Antigua's 365 beaches. Sailing is only limited by your imagination. Oh, and the weather we suppose, but it doesn't sound as romantic when you say that! If we are to be honest though, the USVI is the best kept
secret of the Virgin Islands. Keith says that St John is probably his favourite island he has ever sailed to and it's right next door to the BVI – except with far less crowds!
What does a typical day look like in the BVI?
A typical day in the BVI is one filled with great food, beautiful sights, classic Carribean music, and plenty of laughs and smiles! Days are filled with leisurely lounging on the boat, hikes through lush forests that reveal stunning views, swims with many different aquatic animals, and activities such as paddleboarding and kayaking! Evenings kick off with canapes and cocktails, and after a scrumptious meal will often involve a bout of
dancing!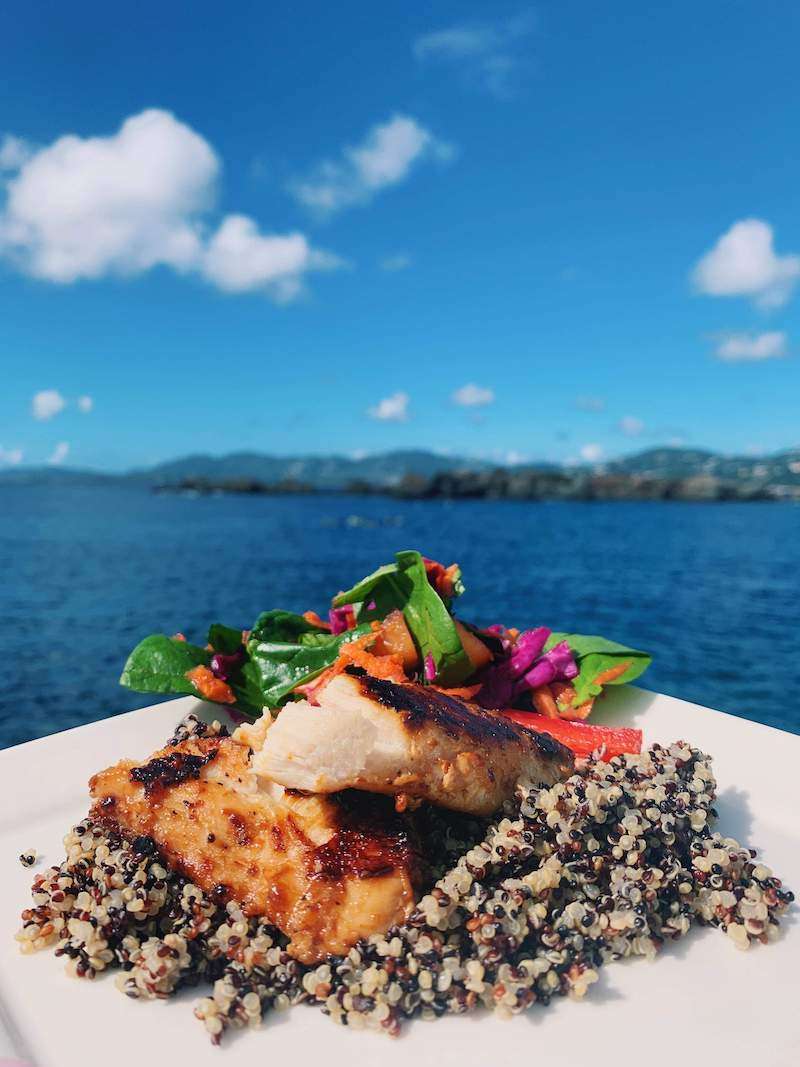 What does the first day, from landing at the airport, generally look like?
Guests will feel immediately at ease as soon as they touch down in scenic St Thomas. After what would have been a beautiful plane ride over the turquoise waters of the Virgin Islands, guests will be excited as they realise that soon they will be the ones on the yachts they saw sailing below them. A taxi will be awaiting their arrival, and will transport them to the marina, where Keith and Ellie will be there, ready to assist with luggage and to welcome them onboard their home for the week! After settling into their cabins, guests are treated to scrumptious snacks and refreshing cocktails, whilst the crew do a quick safety briefing. And then they are on their way! Generally sailing for about 2-3 hours on the first day, guests will be amazed at the scenery before them. Once they arrive at their first destination, guests would generally go for a quick dip whilst the finishing touches are put on lunch. After a filling meal, guests are free to do as they please; snorkel, paddleboard, read a book, chat to the crew – whatever takes their
fancy! As the sun sets they will be treated to some delicious afternoon canapes and enjoy cocktail "happy hour". Dinner and dessert will be served in an intimate setting, with paired wines to accompany the meal. Guests generally have a quiet evening on their first night on Makin' Memories, and will sleep soundly knowing that they are about to experience the best vacation of their life!
For more information on Crewed Catamaran Makin' Memories, send us a message below