Yacht Charters in Croatia
If you're curious about chartering in Croatia, the first thing that we can say is – congratulations! Croatia is an incredibly varied sailing destination and we guarantee you won't be disappointed.
The Adriatic Sea offers endless islands and coves, awaiting exploration. The vibrant coastal towns and villages are perfectly preserved, and often date back to the Middle Ages. For centuries, these lands were contested and fought over by Venetians, Christians, Romans, Illyrians and Austrians – creating a totally unique culture. To visit Croatia is to experience the traditional Mediterranean – and there's no better way than from a charter yacht.
With such a wealth of islands, boats and options to choose from, you might be wondering where to begin. We're here to guide you through the process of planning your dream Croatia charter.
Where to go?
Croatia's 350km of coastline is blessed with more than 1400 islands, medieval towns and villages, and stunning waters. It can be a little overwhelming to know where to start. Don't worry! We've got you covered.
The majority of charter options can be found in Central Dalmatia – with yachts moored in Split, heading towards Dubrovnik. A typical one-week itinerary will take you from Split to Hvar, Vis, Brač, Mljet, Korčula and finally to Dubrovnik. This is the ideal route for first-time charterers in Croatia, but of course there are many other options available to you.
Split
Let's start where your charter likely would. Split, the main city in Dalmatia, is an excellent destination in its own right. This Roman city is amazingly well preserved, often compared to a living museum. Whilst you're here, be sure to visit Diocletian's Palace and walk around the old town.
The nearby Kaštela airport has flights to all major European cities, making connections very straightforward and stress-free.
Hvar
Often listed amongst the most beautiful islands in the world, Hvar is home to the oldest town in Croatia – Stari Grad – located on the north side of the island. The vibrant party capital – Hvar Town – has some stunning gothic architecture which you won't want to miss. In addition, the island is home to clear waters, endless stretches of pine forests and rugged coastlines.
Korcula
Between Hvar and Mljet lies Korcula – the (argued) birthplace of Marco Polo! From the shores, you can sail between hidden coves and crags. On land, you'll be welcomed to winding streets, historical churches, palaces and charming squares.
The sixth largest of Croatia's islands, Korcula tends to be more densely populated by forests than by tourists. This is predominantly due to the limited ferry services running to the island. Of course, this won't be an issue for charterers, who can sail right up to the marina and hop off to explore.
Kornati National Park
Known for being a nautical paradise, the Kornati National Park is an amazing clutch of more than 100 islands in the Dalmation Sea. Typical Croatian pines line olive groves and fields – the landscapes here are breathtaking.
The archipelago takes its name from the largest island – Kornat – which is well worth a visit on your trip. Other notable islands in this area are Kurba, Piskara, Vela and Levrnaka.
Trogir
This walled city is a picture-perfect example of traditional Croatian beauty. Wander the mazes of narrow streets and alleys, stumbling across charming courtyards with restaurants offering local fayre.
By night, the waterfront comes to life, with street performers, live music and market stalls to take in as you stroll.
Dubrovnik
Last, but by no means least – the 'pearl of the Adriatic'. Internationally recognized for its preserved beauty and rich history, this is another former fortress with impressive city walls and gateways. More winding streets, stunning floral displays, impressive churches and an endless selection of terraced bars and restaurants await you.
The Climate
Croatia has the perfect Mediterranean climate – with peak summer temperatures between 77-95°F, and sea temperatures reaching the 80s. You can bet on warm and dry weather during high season. The shoulder seasons – June and September – are also wonderful times to go, with beautiful weather and less crowding.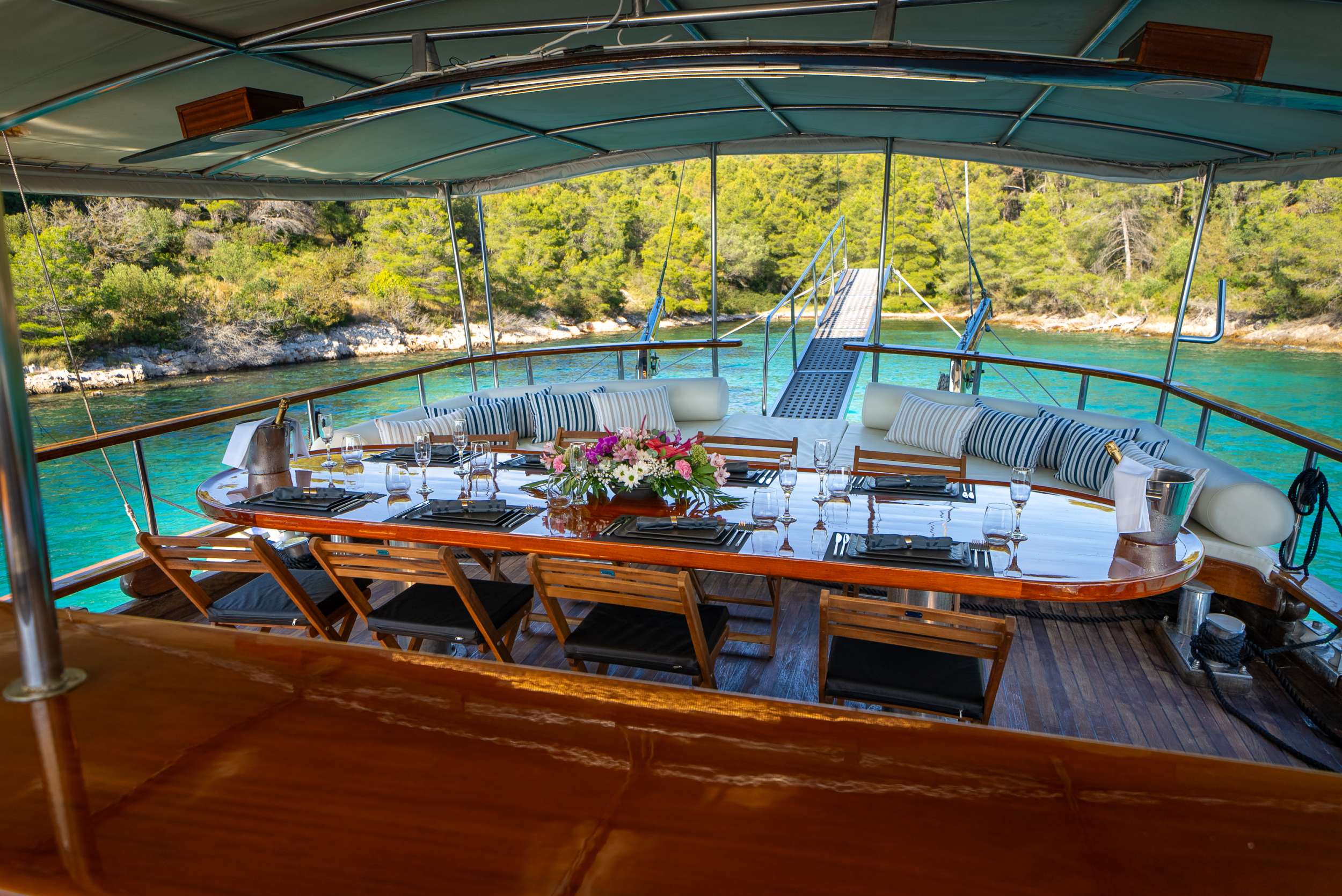 The Boat
At Yacht.Vacations we highly recommend a crewed charter – especially if it's your first time in the area. An all-inclusive catamaran charter gives your group luxurious space and smooth sailing conditions. The crew will be local experts, able to suggest the perfect itinerary for your group, and more than willing to adapt to your requests and whims. Catamarans are particularly perfect for these waters, with the shallow draft making it possible to get even closer to land, making them ideal for exploring the many coves and islands.
Your crew will have everything taken care of in terms of preparing delicious meals and ensuring the fridge is always full of refreshing drinks. All of the water toys you could possibly want will already be on board too. The captain will manage everything in terms of the sailing and navigation. All you need to do is take in the views.
More experienced sailors may also be interested in a bareboat charter. Croatia is heaven for sailing fans, with areas suitable for beginners to seasoned captains. The anchorages are plentiful and easy to arrange and there are many boat options available – yachts, catamarans and gulets being the most popular choices. Gulets, large wooden sailboats, are great for larger groups. With up to six cabins, lots of communal space and expansive decks, they're incredibly striking when under full sail and have a classic style you're sure to enjoy.
Whatever your Crewed Croatia charter vision – your yacht.vacations consultant can bring it to life. Call us today to discuss your dream vacation.